Greene King brewery fined £150k for hygiene failings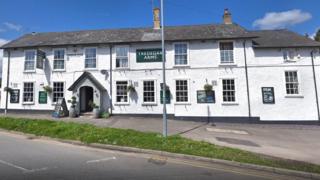 A national pub and restaurant chain has been fined more than £150,000 for a series of hygiene failings at one of its pubs in south Wales.
Suffolk-based brewery Greene King was hit with the £152,000 fine after admitting seven food hygiene charges at its Newport pub, the Tredegar Arms.
Newport council said it was the highest fine it had issued in recent years, due in part to the size of the company.
A spokesperson for the pub said it now had a food hygiene rating of four.
A Newport council environmental health officer visited the pub, on Caerphilly Road, on 17 and 20 July, 2017, and found "a number of food hygiene failings".
Greene King, which runs almost 3,000 pubs across the UK, pleaded guilty to seven charges of failing to keep food premises and equipment clean, and where necessary disinfected, and failure to implement and maintain food safety procedures.
The case was heard at Newport Magistrates' Court on 9 November, 2018.
A spokesperson for the Tredegar Arms said the failings occurred during a "management change-over", prior to which it had a food hygiene rating of five.
"We took immediate action at the time to rectify the situation and re-instate our usual high standards," the spokesperson added.
"The pub has since had a number of inspections and we are pleased to say it has held a four star rating for over a year."