Sunglasses fetish attacker Leon Sterba jailed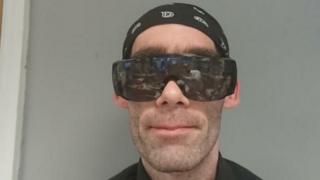 A man forced a passer-by to try on a pair of sunglasses before masturbating in front of her, a court was told
Leon Sterba, 33, asked the woman for directions to the opticians, forced the glasses on her and then committed the sex act, Cardiff Crown Court heard.
He pleaded guilty to outraging public decency and breaching a criminal behaviour order after the incident in Cardiff on 28 September.
Sterba was jailed for eight months, of which he will serve half.
The court heard Sterba, of no fixed address, was already subject to a sexual offences prevention order after a series of similar crimes against women involving glasses.
In 2014, he asked an 86-year-old woman to turn on the windscreen wipers of her car before placing a pair of industrial safety glasses over her face.
The court was told the woman, who cannot be named, was walking near Llandaff Bridge in Cardiff at about 17:20 BST when Sterba approached her.
He asked her to put on a pair of prescription sunglasses from a bag he was carrying, and asked if she could see out of them as he forced them onto her face.
Abla O'Callahan, prosecuting, said he then transferred the bag over his groin, adding the victim "could see his hand moving in his trousers".
"He was moaning and making noises whilst doing so".
In a victim impact statement, the woman said the event made her feel "quite sick" and "afraid".
Gareth Morley, defending, described Sterba's behaviour as "bizarre".
Judge Catherine Richards said it was a "targeted" and "planned offence", adding that it was "not victimless".
She added: "Your GP records indicate your behaviour was regarded as getting out of control."