Warning to Cardiff City fans after 'drunken fight' on bus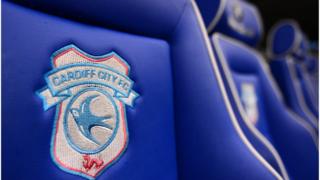 Drunken football fans have been told they won't be tolerated after a fight on an away game coach left children "terrified" and one fan banned.
A Cardiff City Supporters' Club steward was also hit and several seats were damaged as fans returned from the club's game at Everton FC on Saturday.
Supporters' club spokesman Vince Alm also claimed some fans were left in Liverpool for being too drunk and that such incidents were on the rise.
But police called it "isolated".
The fight happened on the almost full 75-seat coach as fans returned to south Wales on the M6 from Liverpool following the 1-0 defeat, said Mr Alm, who is also chairman of the Football Supporters Federation Wales.
Mr Alm said the "main culprit" refused to get off the coach after the fight, and the other man involved had to be put on another coach.
The supporters' club took more than 500 fans on 10 coaches to the game.
The incident has been reported to South Wales Police and to the football club, Mr Alm said.
He warned if such incidents continued, the supporters' club might have to change its "open" policy to make it more difficult for supporters to use its coaches.
"It's only the second time I've seen a fight on a coach in 12 years," he said.
"But we are telling them not to come on our coaches, because we won't tolerate it.
"A lot of fans who have come for years respect the buses, but some new fans don't know how to behave.
"We want to maintain that family-friendly profile of the away game buses."
A South Wales Police spokesman said it received information about disorder on a bus returning from Everton.
"This is not the behaviour we have come to expect from Cardiff City supporters," he said.
"No complaints have been received from any of those involved, but we are liaising with the club and supporters' club regarding this unpleasant and isolated incident."