Capricorn Animal Rescue: Founder says Mold sanctuary has closed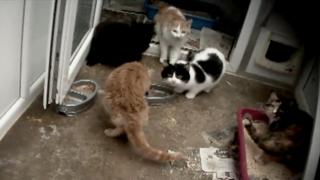 An animal sanctuary being investigated over alleged misconduct has closed down, its founder has said.
Capricorn Animal Rescue was being probed by the Charity Commission over claims of financial mismanagement.
Sheila Stewart, who founded the centre in Padeswood, Flintshire, said the closure was "not by choice" and its interim manager had made the decision.
RSPCA Cymru was on site earlier, removing animals including pigs, dogs, cats, rabbits and birds.
Capricorn has been subject to protests and petitions over the past couple of years by former volunteers concerned about its animal welfare standards.
In August, Guy Hollander from accountancy firm Mazars, was appointed as the sanctuary's interim manager.
Ms Stewart said Mr Hollander had informed her that the centre had to close.
She added: "It was a shock, especially when he said the RSPCA was on the way to take away all the animals.
"For the last three years, I've been battling against this happening."
A BBC Wales Week In Week Out programme, using an undercover reporter, exposed dirty conditions and overcrowding in 2016 - but Ms Stewart called the allegations "unfounded".
In 2017, the centre had its bank accounts frozen by the Charity Commission as part of its investigation.
A Charity Commission spokesman said: "We have an ongoing statutory inquiry into governance issues at Capricorn Animal Sanctuary, as part of which we appointed an interim manager to the charity earlier this year.
"We recognise there is considerable local interest in this matter, however we are unable to comment further at this time so as to avoid prejudicing the outcome of our investigation."
RSPCA Cymru said it was "ready to offer any help the Charity Commission needs, including assisting with animals".
A former volunteer at the centre said space had been made at other rescue centres in the area to take in the animals.