Appeal to return 1970s sculpture to Cardiff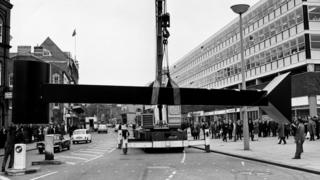 An appeal has been launched to bring back to Cardiff a large steel sculpture that was last displayed in the city more than 45 years ago.
It was put on The Hayes for six months in 1971 as part of a UK-wide scheme to introduce sculpture to city centres.
Chapter Arts Centre is working with the Art Fund to return it permanently from its current home in Leicestershire.
The centre says it needs to raise £18,000 to restore and relocate the piece by artist Garth Evans.
The 12-metre sculpture is described by Chapter as evoking a "hammer-like tool and the image of a mine tunnel as black as coal".
Speaking on his inspiration, Mr Evans said: "I wanted something that I could associate with coal mining and the stories I had heard about that life deep underground."
The sculpture attracted attention not just because of its imposing presence but because the artist recorded comments of passers-by the day after it was installed.
Transcripts of his recordings were published in a book, and were the source material for a play that was performed in New York in 2017.
Pictures from the installation show that it was positioned on land that has since been turned into a shopping centre.
Mr Evans was born in Manchester in 1934 and has exhibited widely in the UK and USA. He currently teaches sculpture in New York.