'Virgin Mary's veil' goes on display in Pwllheli church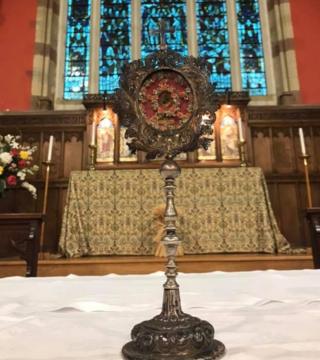 A piece of silk veil supposedly worn by the Virgin Mary as Christ died on the cross is to go on display at a church in north Wales.
The religious relic was donated to St Peter's Church in Pwllheli, Gwynedd, by a woman who regularly visited the church while suffering from terminal cancer.
Clerics say the item comes with a certificate of authenticity.
Father Huw Bryant said with relics "a lot of it is about faith".
According to some, the 6m-long veil worn by the Blessed Virgin Mary, ended up in Constantinople - modern day Istanbul.
It was then given to the Emperor Charlemagne in 876 AD by the Byzantine Empress Irene, and is now kept in the cathedral in Chartres in France.
Officials say the piece given to St Peter's was removed from the full veil in 1829 - and has a wax stamp bearing the coat of arms of the Archbishop of Sienna.
Fr Bryant said the church reopened an old shrine to Our Lady of Pen Llyn three years ago.
One of the people who came to pray there was a woman who had been diagnosed with terminal cancer.
He added: "The purchase of the relic was a gift in her will.
"The donor wanted to remain anonymous, but she wanted to do something for the church which would help others to get closer to God in the way that she had."
A special service of thanksgiving for the gift is to be held next year.