Denbighshire prosthetics firm 'boosts amputees' confidence'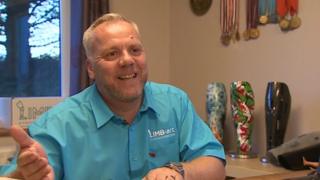 Amputees say designer prosthetic legs are helping them stand proud and break down barriers.
Limb Art, which makes colourful covers for artificial limbs, is the brainchild of Paralympian Mark Williams - who lost a leg in a cycling accident as a child.
The idea has taken off and seen the north Wales firm pick up a disability award.
Amputee Anthony Bates said: "It doesn't put you on the back foot, thinking 'I don't want people looking at me'."
Swimming champion Mr Williams, of Denbigh, came up with the idea while shopping when his self-customised prosthetic leg with flashing LED lights was labelled as "cool" by a passing child.
He added: "At this point I decided it was time to give something back.
"I pulled together a team of experts to make the ultimate covers on a bigger scale."
The 47-year-old said he wanted to improve on "functional" prosthetics offered on the NHS, which he said resembled a pole.
The covers, which come in 16 colours, give prosthetic legs a different shape and can also reflect its user's personality and tastes.
Limb Art was one of five finalists of the Stelios Awards for Disabled Entrepreneurs, hosted by EasyJet founder Stelios Haji-Ioannou.
Disability charity Leonard Cheshire, which was involved in the awards, praised the firm for making a "massive difference" to amputees' lives.
Spokeswoman Mair Aubrey said: "It gives people the confidence to go out and others look at the art, not just the prosthetics.
"We have had very good feedback and people are excited about the scale of the difference this could make to their confidence and their life."
Mr Williams hopes to expand Limb Art over the next few months and tap into the US market as well.