Eye cancer mum 'devastated' by baby's same diagnosis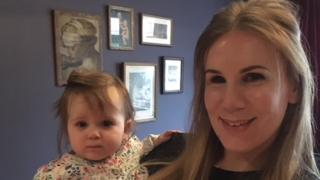 A mum who lost an eye to a rare form of cancer is "devastated" after learning her baby has the same condition.
Autumn McAllister is just one of 60 diagnosed in the UK each year with retinoblastoma.
Not much is known about the condition affecting the retina, but it is most common among under fives and if a parent had it.
Kalli McAllister was diagnosed at seven months old and was on "high alert" when her daughter was born.
Doctors caught Autumn's condition when she was just eight weeks old and she is responding well to treatment.
While the cancer is successfully treated in 95% of cases, 40% of those affected lose an eye.
"I was devastated to hear my baby had cancer," said Ms McAllister, from Brecon, Powys.
"But everyone was so brilliant, it was the not knowing that was the scariest part."
Ms McAllister was diagnosed after her parents noticed a silvery cloud in one of her eyes.
While tumours meant it had to be removed, radiotherapy enabled doctors to save the other one.
The 33-year-old added: "I survived it and have a great life so know there is a very positive side to this.
"Autumn only had to have laser treatment and the tumours have responded very well.
"It hasn't affected her sight or day-to-day life."
Ms McAllister is pregnant and her baby has a 50% chance of developing cancer, while her eight-year-old son, Rafael, has been given the all clear.
She and Autumn are now donating stem cells to researchers at Newcastle University in the hope of helping to save the sight of others who need chemotherapy.
Dr Rubina Ahmed works with eye research charity Fight For Sight, which is funding the trial.
"Very young children won't be able to tell you if they've got a problem or they're having an issue with their eyes so it is really important for parents to be vigilant," she said.