Green energy waste incinerator plan for Powys quarry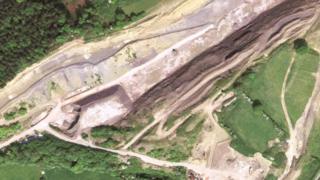 Plans for a £114m waste incinerator in Powys have been unveiled, with developers claiming it could power more than 20,000 homes.
Buttington Quarry, near Welshpool, is earmarked for the scheme, which could turn up to 150,000 tonnes a year of non-recyclable waste into electricity.
Broad Energy said the energy recovery facility would create 35 permanent jobs and 300 during its construction.
The firm is asking for opinions before it submits a planning application.
Alistair Hilditch-Brown, chief executive of the Broad Group, claimed the project would help Powys become "the leader in terms of green energy".
The site would supply power to an eco-business park included as part of wider development plans by the quarry owners, but could also be offered to other users.
The fuel would be made up mainly of residual waste from industrial and commercial sources in Powys and neighbouring counties.
Broad Energy said the plant - to be designed, built and operated by Hitachi Zosen Inova - would help reduce the amount of waste sent to landfill.
Classed as a development of national significance, any application will be dealt with by the Planning Inspectorate for England and Wales rather than Powys County Council.