Barry Waterfront house builders 'not providing shops'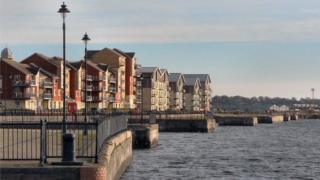 House builders could be told to stop work on a site where they have failed to build shops and restaurants.
Enforcement action is being considered by Vale of Glamorgan Council over the South Quay Parkside scheme in Barry.
A report said that while the housing had "proceeded at pace", retail units which were slated for September 2017 "have not been delivered".
The consortium of developers involved said it was "fully committed" to building shops as well as homes.
The housing is part of Barry's waterfront development, transforming 19th Century docks with 2,000 new homes, shops, offices, a school and a hotel, according to the Local Democracy Reporting Service.
House building in South Quay Parkside was scheduled to take place between March 2017 and November 2018 while the restaurants and cafe units in the district centre were supposed to be delivered between September 2016 and September 2017.
A planning condition said the retail units should have been made available before the first homes were occupied.
Approval for the district centre plan was given in May but work had yet to start, the report added.
Enforcement action to be considered by councillors on Thursday includes calling a halt to the occupation of market-price homes in South Quay Parkside, and to stop construction of homes on the neighbouring South Quay Waterside site until the shops, cafes and restaurants are built.
A temporary order halting sales for 28 days has been issued pending a decision on more permanent action.
Jonathan Bird, the council's cabinet member for planning and regeneration, said: "It is not acceptable for the developers to show such scant regard to their obligations."
The consortium of developers - Taylor Wimpey, Barratt and Persimmon - said it was committed to delivering the homes and the retail units.
A spokeswoman for the consortium said: "We are currently liaising with the Vale of Glamorgan council and have arranged a meeting with planning officers this week to identify and implement a suitable way forward.
"We are fully committed to delivering high quality new homes and the associated retail units in Barry."