Carl Sargeant told ministerial driver 'it's my fault'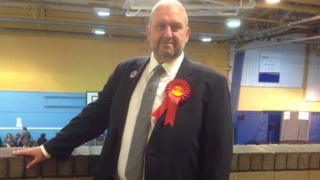 A Welsh Government minister found hanged days after being sacked, told his driver "I have brought it on myself", an inquest has heard.
Carl Sargeant, 49, was discovered dead at his home in Connah's Quay, Flintshire, on 7 November last year.
The Labour AM had been accused of behaving inappropriately towards women, which he denied.
The hearing was told ministerial driver Calvin Williams heard Mr Sargeant say: "It's my own fault."
Giving evidence on day four of the inquest, Mr Williams said he was sent to Cardiff Central Station to pick up AMs Mr Sargeant and Lesley Griffiths, before taking them to Welsh Government offices in Cathays Park on 3 November last year.
He said Mr Sargeant appeared "quite chirpy" on the morning he dropped him off at the offices before emerging 15 minutes later looking "very quiet".
Mr Williams said: "I asked him 'is all okay?' He said 'no, I'm gone'."
On 7 November, following Mr Sargeant's death, Mr Williams said he made a note of the conversation he had had with Mr Sargeant four days previously.
His notes said that as Mr Sargeant left the car, he said: "It's OK. It's my own fault. I have brought it on myself."
---
Carl Sargeant inquest at glance
---
Mr Williams said that a "day or two" later he was driving the First Minister Carwyn Jones and mentioned the conversation he had with the late Mr Sargeant.
Asked what Mr Jones' response was, Mr Williams said: "He didn't really give one. He was quite quiet and then he said 'do you mind if I share this with others?'"
Within a couple of days, Mr Williams said, he was asked to go to the office of senior civil servant Peter Greening with another member of staff, where he handed over the note.
The inquest, which is taking place in Ruthin, heard that the first minister spoke with a senior party colleague about the allegations concerning Mr Sargeant three days before announcing his cabinet reshuffle.
Welsh Labour general secretary Louise Magee said: "He (Mr Jones) told me the nature of the complaints but he didn't tell me who the women were."
Ms Magee later spoke to one of the alleged complainants - which prompted questions from coroner John Gittins.
Mr Gittins asked: "You are speaking to the woman and you are doing so because you think it's the right thing to do... you don't feel it was right to afford the same courtesy to Carl Sargeant?"
Ms Magee said it "would have been inappropriate" in her role.
The Welsh Labour chief said she spoke to Mr Sargeant at 13:00 GMT - after the cabinet reshuffle had been made.
"He was calm," Ms Magee said. "He sounded frustrated... he hadn't been told yet whether he was being suspended or not and he did not know who had made the complaints.
"He asked 'will I find out today?' And I said 'yes, I imagine very, very soon'."
St Asaph-born Mr Sargeant learned he was suspended from the party an hour later, the inquest was told.
The hearing was also told that security staff at the Welsh Assembly had been asked to change the access rights to Mr Sargeant's key card hours after he had lost his job.
Craig Stephenson, director of engagement for the National Assembly for Wales, said the first staff heard about Mr Sargeant's dismissal came via social media.
Mr Stephenson also said the late politician did not contact a "support team" which is available for AMs.
The inquest heard that while Mr Sargeant had anticipated being suspended, he first learned about it via Twitter.
Political consultant Daran Hill, who described himself as "Carl's closest friend", said this caused the Labour politician to lose trust with his party.
Mr Hill also felt "there had been something of a change" in Mr Sargeant during the last period of his life.
He added: "He seemed distracted some of the time."
Feeling "besieged", Mr Sargeant tweeted a 102-word statement strongly denying the allegations against him.
Mr Hill said the Alyn & Deeside AM "didn't want people to feel he'd been moved from his job for incompetence".
Another friend and confidante, David Taylor, said Mr Sargeant had asked about how to delay sending a text messages.
On the day of his death, Mr Sargeant sent a message saying: "love you all x."
Mr Taylor said he tried calling back repeatedly but could not get through.
He said one of Mr Sargeant's former colleagues managed to get through to the Sargeant family's landline.
The inquest heard the politician's son Jack answered - minutes after they had found the body.
Information and advice
If you or someone you know is struggling with issues raised by this story, find support through BBC Action Line .