Bodnant Welsh Food Centre 'owes farmer £17k'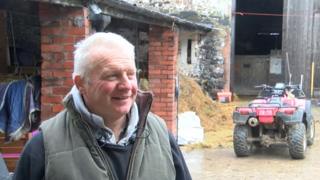 A pig farmer who says he is owed nearly £17,000 by a food company in administration said the firm showed a "lack of respect" to its suppliers.
The Bodnant Welsh Food Centre, Conwy county, went into administration in October, but the liquidators said a potential buyer has been found.
Llanelian pig farmer Gwyndaf Thomas said the firm "must have known the place was going down for a few months".
Administrators Smith Cooper declined to comment.
Mr Thomas, who rears rare and traditional breeds of pig, signed a contract to exclusively supply the food centre.
His family claim the sum owed for their Pigging Good Pork produce grew to almost £17,000 and the company that ran the centre, Furnace Farm Ltd, treated their suppliers with disrespect.
Mr Thomas said: "They must have known that the place was going down for a few months. But they kept buying... And we're not the only ones in this situation.
"There was little respect shown to those who sold them stock."
Last week, administrators Smith Cooper, announced businessman Richard Reynolds was close to acquiring the Welsh Food Centre.
However, Mr Thomas and his family have been informed by their accountant there is little chance they will receive any of the money they say they are owed.
Current owner Michael McLaren said: "I greatly regret that the directors of Furnace Farm Ltd could not get the business to trade profitably, despite huge investment of time and money over many years."
Mr Reynolds said he was "delighted and honoured to be close to securing the ownership" of the centre.
He added: "I strongly believe that the excellent location, award-winning produce and strong reputation will enable the Bodnant Welsh Food Centre to continue to thrive and grow for many years to come."
BBC Wales asked Smith Cooper for a reaction to Mr Thomas's comments, but the company declined.