Giant 200-year-old redwood tree cut down 'by mistake'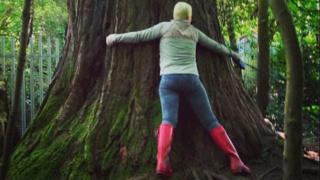 A 200-year-old giant redwood tree in Swansea has been chopped down "by mistake" by a housing developer.
The tree was planted by the land-owning family who created what is now Penllergaer Valley Woods.
Enzo's Homes are building 80 new homes at the site of the former Valley Woods house.
The boss of the company, Enzo Sauro, said the giant redwood had been cut down by mistake and they would "replace it with a mature replica tree".
The error had occurred because the tree that was cut down "was not marked up correctly", according to Mr Sauro.
Swansea Council said it was looking into the matter because the giant redwood had a tree preservation order, according to the Local Democracy Reporting Service.
A spokesman added: "No decisions have been made yet in terms of any possible enforcement action."
Trees with preservation orders should not be damaged or felled without a council's permission, although there are some exceptions.
The replacement tree would be planted in the same place as the felled one, Mr Sauro said.
Swansea Council sold the 14-acre plot of land to Carmarthenshire company Enzo's Homes, which has planning permission.
Penllergaer councillor Wendy Fitzgerald said: "It's just unbelievable. I've got so many people angry about it."
She also said that photos of the tree appeared to show it outside a fence which surrounded the development site.
She wanted the housing scheme called in by Welsh ministers as she felt it could significantly affect the grade two-listed park and landscape in which it is located.
The operations manager of Penllergaer Trust, Ray Butt, said: "It looks as if it was part of the original plantings by the [Dillwyn Llewelyn] family. It must have been around 200 years old."