Permission for ex-Michelin starred Plas Bodegroes to become a house again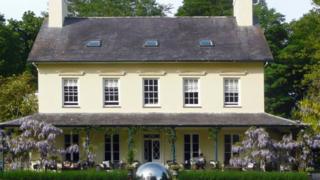 The owners of a former Michelin-starred hotel have been granted permission to turn it back into a private residence.
Chef Chris Chown has failed to find a buyer for Plas Bodegroes in Gwynedd and said it was no longer viable due to online competition driving down prices.
Gwynedd Council has approved the change of use, to secure the future of the Grade II-listed premises near Pwllheli.
But Mr Chown said the hotel would remain open pending another attempt to sell the business as a going concern.
Planning officers gave the go-ahead after being satisfied all efforts had been made to sell the business.
"Despite dropping the price of a room, there is not the same demand as there was five years ago," they said in a report.
"The information presented is sufficient to show that the building is not viable as a business."
The 18th Century property had been turned into a hotel and restaurant by Mr Chown and his wife Gunna, and was honoured with the renowned Michelin star from 1991 to 1998, and again from 2001 to 2008.
But the Chowns said the rise of online competition had driven down prices and had made the business unviable after 32 years, according to the Local Democracy Reporting Service.
With the cost of staff, fuel and supplies rising, the couple said they were only able to break even by not taking a salary.
Auctioneers Christie's tried to sell the hotel for £1.5m in 2015 but got no takers, saying the business was too seasonal, and that "the current owners' reputation was too intimidating to follow".
Mr Chown told BBC Wales that despite approval for the change of use, the hotel and restaurant would remain open for the foreseeable future.
He said a fresh attempt was being made to sell the business as a going concern, with planning permission to convert the premises into a house within the next five years.