Andrew McNamee jailed for 'biting off' man's ear outside Newport pub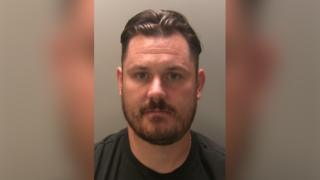 A customer who bit a man's ear off in a drunken city-centre pub brawl has been jailed for four years.
Andrew McNamee, 38, bit off "almost all" of the ear during a confrontation outside a pub in Newport.
Victim, Paul Jenkins, who needed 13 hours of surgery, had waited outside Breeze bar after an incident inside.
McNamee, of Lliswerry, Newport, claimed he acted in self-defence but was found guilty of unlawful wounding at Cardiff Crown Court.
Neither McNamee nor Mr Jenkins could remember what happened precisely on 3 September 2017.
However CCTV and police evidence showed that as McNamee left the pub in the early hours of the morning, Mr Jenkins attacked him. He was restrained by McNamee who then bit off his ear.
Mr Jenkins was left with extremely serious injuries and in a victim personal statement read to the court he said: "I can't remember anything about the attack. But I do recall being in hospital for several days when eventually the enormity of what had happened dawned on me.
"I was quite shocked at the scarring. I became very self-conscious of my appearance.
"The worst aspect has been coming to terms with the disfigurement and how that has affected my wife and my children."
Harry Baker, defending, insisted the assault was not pre-meditated but accepted McNamee's self-defence was "excessive".
Recorder Eleri Rees said: "You restrained him and since he was under control he was not able to assault you any further.
"You were able, of course, to bite him. You bit off almost all of his ear.
"It is quite clear that he has been left with a very clear disfigurement. The injury has had a profound impact on him, his family and his children."