'Patchy' refuge access for disabled women in Wales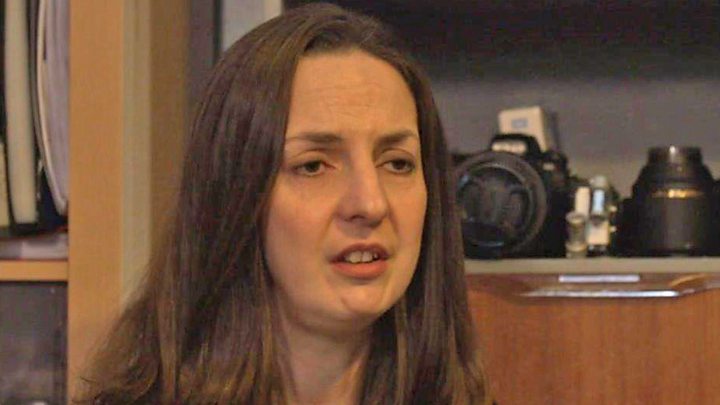 Disability access at women's refuges is patchy across Wales with some areas having only one or no accessible places, figures for the BBC suggest.
About 30% of the 157 of refuge spaces in Wales are accessible to those with a disability, according to responses to a Freedom of Information request.
Welsh Women's Aid said disabled women were more likely to be in an abusive relationship than non-disabled women.
The charity said the issues were putting lives at risk.
The findings come from responses from 14 of Wales' 22 councils.
All of Carmarthenshire's 15 refuge spaces were accessible to disabled people, but none of the eight available in Gwynedd were, while only 10% in Denbighshire were accessible.
Meanwhile, although council spending on domestic violence refuges has fallen slightly since 2013-14, the number of domestic violence cases recorded by police has increased by 23% over the same period.
'It gave me space, kept me safe'
Dr Natasha Hirst, 40, who was born deaf, said she was in a relationship which "quickly became quite controlling and manipulative".
"As it progressed it escalated into violence, far more controlling behaviour, financial abuse - the whole mix - and I found myself trapped in a relationship I couldn't get out of.
"But I blamed myself for his behaviour and was just trying to keep him happy. In the last few weeks, the violence had escalated - I wasn't left alone for very long and was constantly being interrogated and suffered physical abuse as well."
She said her partner would use her hearing loss to exert more control, acting as if he communicated on her behalf and to appear to be helping her. He even hooked up her email accounts to his phone.
"The day I managed to flee, I realised I'd been left alone for a few hours and got in contact with a family member in London. I then stayed with a friend back in Wales."
Dr Hirst, a freelance photographer, then spent 10 months in three different refuges, rebuilding her life so she could eventually live independently and work on her career.
She said the refuge staff were adaptable to her needs and did everything they could to make it accessible, as well as support in making calls to sorting out her finances. She also managed to finish her Open University degree while at the refuge, while a cochlear implant has also improved her hearing.
Dr Hirst said it was "really important" that efforts were made for as many accessible places as possible to be made available in refuges.
"I've made some very solid friends, friends for life, and it gave me space, kept me safe and enabled me to simplify my life so I could understand what had happened to me," she said. "No matter how much bad stuff happens - there are really good people out there and they made a massive difference."
"It's vital there's accessible access to refuge spaces, when and where a woman wants it - and especially for disabled women so they can have that safe space like any other woman," said Gwendolyn Sterk, of Welsh Women's Aid.
"If there isn't that space where and when she needs it... it could be impacting her life - and actually be fatal."
She said there was a "postcode lottery" when it came to accessibility which could lead to women having to travel away from their support network.
Ms Sterk said a clear and sustainable funding mechanism for refuges was needed as currently most refuges only had guaranteed funding for a year at a time.
She added that there were also problems with women being able to leave refuges because of a shortage of suitable housing to move on to.
The proportion staying in refuges for more than six months nearly doubled from 58 (5%) in 2016-17 to 102 (9%) in 2017-18.
The Welsh Local Government Association said councils were committed to fulfilling their equalities responsibilities.
"There is a shortage of affordable move-on accommodation, which local authorities and their partners are working to overcome through increasing the supply of affordable housing," said a spokesman.