Peter Colwell shooting: Accused 'not aware of trigger pressure'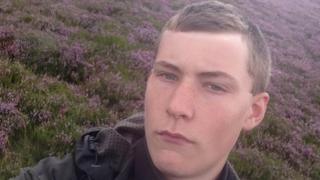 A gamekeeper accused of the manslaughter of a teenager who was shot in a pub car park has told a court he was not aware of applying direct pressure to a shotgun's trigger.
Ben Fitzsimons accepted "many rules of safety" were breached the night 18-year-old Peter Colwell was killed.
He told Caernarfon Crown Court he had drunk eight pints of lager on the night of the shooting.
Mr Fitzsimons, 23, denies manslaughter through gross negligence.
He agreed with the prosecution that "drink and guns don't mix".
Mr Colwell was shot on 5 February last year in a 4x4 vehicle in the car park of The Ship Inn pub in Llanbedrog, near Pwllheli.
"Did you apply direct pressure to the trigger?" prosecutor Patrick Harrington QC asked the defendant.
Mr Fitzsimons replied: "Not that I am aware of, no. I can't say yes or no."
Mr Harrington said pressure had been applied to the trigger with the safety button off. Mr Fitzsimons said: "Somehow, yes."
Ben Wilson, 29, now of Ely, Cambridgeshire, who also denies gross negligence manslaughter, had a "lax" attitude as a gun owner to firearms safety, Mr Fitzsimons agreed while giving in evidence.
Mr Wilson, who admits unlawfully having a loaded gun in a public place, is yet to give evidence.
Mr Harrington told the court previously that Mr Fitzsimons had been sitting in the front passenger seat of the vehicle with the gun propped up to his right with the muzzle facing backwards.
The prosecutor also said Mr Wilson was in the car park, but not in the car at the time, and that the semi-automatic shotgun was owned by Mr Wilson and accidentally discharged by Mr Fitzsimons.
Mr Fitzsimons and his brother Michael Fitzsimons, 25, both of Nanhoron, Pwllheli, and a colleague Harry Butler, 23, of Llaniestyn, Pwllheli, deny unlawful possession of a loaded shotgun in a public place.
Along with Mr Colwell, they worked as gamekeepers on the Boduan Estate near Pwllheli.