Push to end compulsory prayer in schools across Wales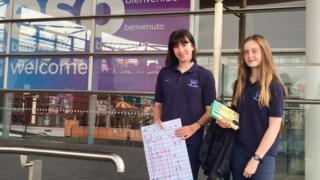 Two schoolgirls have written to Welsh Government ministers saying pupils should not be "forced" to take part in daily prayers.
Rhiannon Shipton and Lily McAllister-Sutton launched a petition calling for the practice to end - and got more than 1,300 signatures.
The Church In Wales previously said it believed collective worship was not always done properly.
The Welsh Government said it was aware of "the strength of opinion".
Rhiannon and Lily, from Cardiff, submitted their petition to a Welsh Assembly committee last year.
It later saw their school - Ysgol Glantaf - make changes to prayers, but the pair said the practice during assemblies had now returned.
"At first, we were told we didn't have to pray if we didn't want to, but it's slowly come back," Rhiannon said.
"I think that religion should be kept outside of school because it has nothing to do with education."
The Welsh Assembly's Petitions Committee last considered the petition on 19 June and agreed to wait for an update from Education Secretary Kirsty Williams following a review.
Alongside the schoolgirls' petition, the committee is also considering one with the opposite argument, which calls for religious assemblies of a broadly Christian character to be kept. It was started by Iraj Irfan and has attracted 2,231 signatures.
The National Secular Society said the issue of collective worship was problematic.
"School directed worship is inherently coercive, it is an inappropriate state function and violates young people's and families' right to freedom of religion or belief," a spokeswoman added.
A spokeswoman for the Welsh Government said: "Parents have the right to withdraw their child from collective worship."
The Church in Wales previously said that collective worship should be "a richly rewarding spiritual experience that is creative, interactive and informative".
The BBC has contacted Ysgol Glantaf for comment.