Ieuan Griffiths death: Mother believes cause is 'unexplained'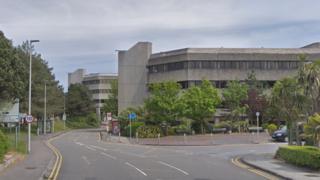 The mother of a boy, 13, found with butane in his blood says his death is unexplained due to a lack of evidence.
Ieuan Griffiths of Loughor, Swansea, was discovered face down on his bed with blood around his mouth in January.
A pathologist said it was not possible to give a definitive cause while a coroner gave a narrative conclusion of "sudden death of a person exposed to significant amounts of butane".
But his mother does not believe he was abusing solvents.
At the Swansea inquest, photos of two deodorant cans with their caps broken off - found in Ieuan's bedroom - were shown.
While a police investigation ruled out foul play, a toxicology report concluded he had likely inhaled butane in the hours before his death, the hearing was told.
Pathologist Dr Stephen Leadbeatter said he could not give a definitive cause, adding: "We can't exclude for example sudden death from cardiac arrhythmia.
"But given that cardiac arrhythmia is associated with butane, it is difficult to ignore that exposure."
Glyn Maddocks, a solicitor for leuan's family, accepted that finding, but said they maintained the evidence showed the death was "unexplained" and "could have been caused by a number of different factors".
'Lack of evidence'
PC Nicholas Davies told the inquest investigators found no evidence of solvent abuse or references to solvents on Ieuan's electronic devices.
His mother Meghan Griffiths said she "would have known" if he was using the substance.
Dr James Coulson, a toxicology expert from Cardiff University, said his investigation on behalf of the family also found no signs of solvent abuse or drug paraphernalia.
"While agreeing with the finding of butane in his system, there's a lack of evidence that butane was the cause of death," he added.
In a statement on behalf of the family after the hearing, Mr Maddocks said: "The suggestion that this would have happened other than accidentally is denied by the family and by all of his many friends.
"Indeed notably the coroner did not feel he was able to make such a finding."