Transgender services GP fined £12,000 over registration failure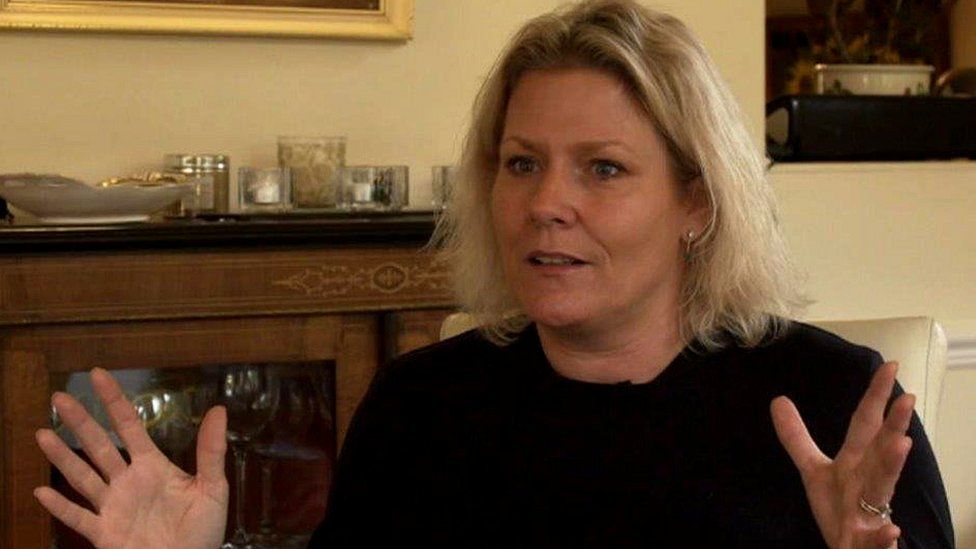 The GP prosecuted for failing to register her online advice services for transgender patients with a health regulator in Wales says she has moved her service to England.
But Helen Webberley admits she has still not registered with inspectors there either.
She was fined £12,000 by a district judge who called the offence "serious".
Her company was also fined for failing to register with Healthcare Inspectorate Wales (HIW).
This is the first criminal conviction for the regulator.
Webberley was also told to pay £11,307 costs and her company, Online GP Services, has been fined £2,000 at the court hearing in Merthyr Tydfil.
The Abergavenny GP started a private service for transgender patients online in 2015, and said she has treated thousands of patients in that time because waits for NHS services are so long.
Russell Davies, defending, said it was never anticipated that the registration of the company would be in any way controversial.
'Considerable experience'
"Webberley always followed the international guidelines for transgender care, but what she didn't do was to state how many patients there were, how old they were and what treatment was included," he said.
"It is regrettable that she didn't provide that information. She didn't provide it due to confidentiality and that was misplaced.
"She was a very caring practitioner who never developed the company for financial gain. She was only motivated by the care of her patients."
But District Judge Neil Thomas said: "In this case there seems to be a clear refusal to follow the law and that is a significant aggravating factor.
"Webberley was a doctor of considerable experience. The court has to regard this offence as serious."
After the hearing she said she had never set out to break the law, adding: "My work, which so many of my patients have called life-saving, has now resulted in a criminal record and this is absolutely devastating for me."
Last year the GMC put restrictions on Webberley while they investigated her work.
Webberley told BBC Wales her husband, who is also a GP, has been treating patients while she was unable to, though the GMC has now also placed some restrictions on him.
HIW instigated legal proceedings when Webberley continued to treat patients, despite being told to stop until she was registered.
"I was anxious about the time that process would take," she said. "When those time scales are unknown, you have patients potentially out of treatment for a long time. I was scared for my patients. I went with my doctor instinct and my heart, which said 'don't pull the rug on these people'."
Webberley has since moved her online gender service from Wales to England and said she has written to HIW's counterpart in England, CQC, but is yet to be registered there.
"I wrote to them again last week, (asking) if being registered with CQC is the right and legal thing to do, please tell me how to do it, let's meet. We haven't had much response."
HIW chief executive Dr Kate Chamberlain said: "Unregistered healthcare services pose a risk to patient safety as they are not subject to the same level of scrutiny as registered services."
"We recognise that there have been some issues in this area but progress is being made and we remain committed to improving gender identity services in Wales," said a Welsh Government spokesperson.
"The Welsh Gender Team, Local Health Boards and Primary Care continue to work together to implement these improvements and the All Wales Gender Identity Partnership Group updated stakeholders on progress earlier this month.
"Recent progress includes the implementation of new arrangements for prescribing hormone replacement therapy targeted to the area of most need, and recruitment to key posts in the Wales Gender Team. A series of education and training events are being planned for the new year to ensure the integrated pathway is operational next year."
Meanwhile, the GMC's investigation into Webberley has been extended for a further 12 months and she has an interim suspension.
"Doctors shouldn't have criminal convictions," she said. "I don't quite know what impact that is going to have on me. I'm scared but yes the public have to trust their doctor."