Partner convicted of Denise Rosser's murder in Bedlinog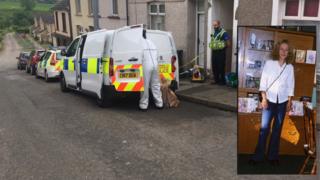 A 50-year-old man has been convicted of murdering his partner found dead after suffering "catastrophic injuries".
On Tuesday, a jury at Merthyr Tydfil Crown Court found Simon Winstone guilty of killing Michelle "Denise" Rosser.
The 38-year-old had 28 rib fractures, a ruptured kidney and injuries to her head, chest and stomach.
Winstone, 50, claimed someone else killed her as he slept in the same room at her home in Bedlinog, Merthyr Tydfil, on 29 May.
When asked to explain her facial injuries, Winstone told police: "They were friction burns from the carpet when we were having sex last night."
The day before he murdered her, Winstone was seen pushing Ms Rosser into a bin and locking her out of her house.
Neighbours heard the couple "screaming and yelling" at each other and the court was told the pair had a "turbulent" and "volatile" relationship.
Winstone was heard shouting "she's gone, she's gone" the next morning and was found by police cradling Ms Rosser's dead body.
Ms Rosser had lost the sight in her right eye after an attack by three men several years ago.
After the conviction, Kelly Huggins, of the Crown Prosecution Service, said: "Denise Rosser was attacked in her own home, suffering at the hands of the person she lived with.
"Denise's family and friends have faced this court case with courage and have our thanks for their support.
"Whilst today's outcome cannot take away the hurt and loss felt by them, we hope that it helps them move forward with their lives."
Winstone will be sentenced on Thursday.