Petition against prostate cancer scan 'postcode lottery' handed over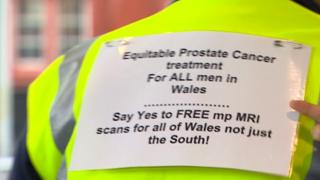 A petition has been handed in to the Welsh assembly calling for a prostate cancer-detecting scan to be free across the country.
Campaigners said patients in north Wales did not have free access to pre-biopsy multiparametric MRI scans (mpMRI) unlike patients in south Wales.
The petition containing 6,000 signatures was handed to the Welsh assembly petitions committee earlier.
The Welsh Government said the scan was not recommended by medical advisers.
Stuart Davies, from Llangollen, paid for a scan after prostate cancer that he beat nine years ago returned.
"It turned out I didn't need the scan, which started us off on this journey," Mr Davies said.
"I found out that scans are free in some places in south Wales and not in north Wales.
"I am aware that there are people who are waiting for these scans and can't pay for them. It is a postcode lottery."
Prostate cancer overtook breast cancer as the third biggest cancer killer in the UK, according to the most recent figures.
The scan is only available in the Cardiff and Vale, Aneurin Bevan and Cwm Taf health boards.
Patients in some parts of north Wales have to pay £900 for a prostate cancer-detecting scan, campaigners said.
The petition, presented to committee chairman David Rowlands AM, will be discussed on 11 December.
Guidelines under review
Rhun ap Iorwerth AM said: "It is not right that patients in one part of Wales get a tried and tested test for free while others have to go into their own pockets."
In England, an NHS trial is under way to cut prostate cancer diagnosis times from six weeks to a matter of days using the scan.
A Welsh Government spokesman said: "The routine use of multiparametric MRI before prostate biopsy is not currently recommended by the National Institute for Health and Care Excellence (NICE).
"The relevant guideline is under review and health boards are working together to prepare for potential changes to the investigation of suspected prostate cancer."