Haverfordwest's £3.4m Glan-yr-Afon cultural centre opens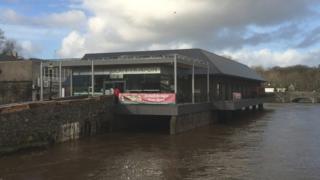 A cultural centre housing a town's library, gallery and information centre opens on Friday.
The £3.4m Glan-yr-Afon facility in Haverfordwest's former Riverside Market building, is expected to welcome 200,000 visitors per year.
Pembrokeshire council hopes it will "kick-start" the regeneration of the town centre.
The opening exhibition features the work of artist Sir Kyffin Williams, to celebrate the centenary of his birth.
Paul Miller, the council's member for economy, tourism, leisure and culture, said: "It provides a blueprint for the way we need to engage with our customers.
"I look forward to similar innovative developments in the future to help revitalise our town centres."