Anger as blind children's support service at risk in Newport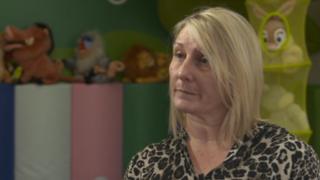 A woman caring for her grandson who is blind has said changes to the support service they use could be "unbearable".
Dawn Battersby, from Newport, cares for Brogan, aged nine, who has learning and physical disabilities.
Newport council has pulled out of Gwent Sensory and Communication (SenCom), a service for children who have vision, hearing and communication problems.
A spokesman for the council said it believed it could provide the same service in a more cost-effective way.
Staff at SenCom have been working with Brogan since he was three months old.
"This is absolutely horrendous to think of where we are with him at the moment and how far we're going to go back if we have to change staff," Mrs Battersby said.
"Any change is unbearable. I wouldn't like to even think of what we're going to go through."
Newport is one of five councils in south east Wales funding the service, contributing £650,000 a year to its £2.3m budget.
Budget documents published on Wednesday show the council plans to save £250,000 by withdrawing from SenCom.
Its new service will support 380 children and young people in Newport.
Torfaen AM and chair of the children's committee in the Senedd, Lynne Neagle said: "I think Newport pulling out could destabilise the whole service for all the children and young people involved.
"I'm very worried children in Newport will not get a service as good as the one they're getting at the moment."
Newport council said it has given "serious and appropriate consideration to the wellbeing" of those affected by the change.
"We are confident that we can provide a service for Newport children that is equivalent to that provided by SenCom in a more cost-effective manner," a spokesman added.
A spokesman for Torfaen council, which is the lead authority for SenCom, said it does not expect the new SenCom being "significantly different" in Blaenau Gwent, Caerphilly, Monmouthshire or Torfaen.
But he added "it is expected the new model will require less staff".
The Welsh Government has described SenCom as a "very, very good example" of councils working together to create a specialised service.