LGBT+ football fans: homophobia needs to be tackled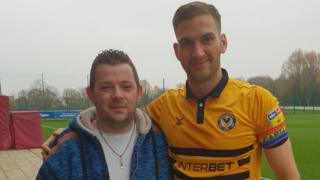 Gay football fans have been put off from going to matches because of fears about homophobia, activists have said.
Supporters have acknowledged the work Wales' three league clubs have done to tackle the issue.
But new research by the Football v Homophobia campaign found 63% of LGBT+ supporters have experienced or witnessed abuse at matches over sexuality or gender identity.
Adam Smith, from Pride Cymru, said: "Everyone deserves to enjoy sport."
Football v Homophobia's The LGBT+ End of Season Survey found 65% of home fans and 72% of away fans of league clubs did not report homophobic and transphobic chanting.
In recent years, campaigners have tried to tackle homophobia - especially in the men's game - through initiatives such as Pride In Football.
Swansea City players wore rainbow laces in their home match against West Bromwich Albion last week, while Cardiff City has become affiliated with Wales' first LGBT+ team, the Cardiff Dragons.
Men's team manager Dario Guittiere, whose side take on Bristol Panthers this weekend, said: "There are still a lot of stereotypes.
"I think this is one of the reasons why a male footballer who maybe wants to be open about their sexuality has not been able to come out.
"It is different in the women's game I think because there are openly gay female professional footballers.
"Things have improved but there is still a long way to go."
Newport County is in the process of setting up a LGTB+ supporters' group.
Exiles fan Mr Smith, who is the chairman of Rainbow Newport, said he had not experienced homophobic abuse at football matches but friends who support other clubs were put off from going to games because of abusive chants.
"Football is a very unifying sport," he added. "You give a group of kids a football and they all are united together and just enjoy the game.
"The game does not need to change but there's elements of society which do.
"By having a LGTB+ supporters group, hopefully we can create awareness and get more people coming to games and involved with the club who may not otherwise."
Lou Englefield, from Football v Homophobia, said LGBT+ football fans paid the same amount to support their team as everyone else - yet too many experienced or witnessed abuse on a match day.
He added football clubs should take "robust action" as well as ensure their system of reporting such incidents are "fit for purpose".
The Football Association of Wales said it would continue to support work done by LGBT+ groups at national and grassroots levels.