Swansea fraudster booked £44k Dubai and Seychelles holidays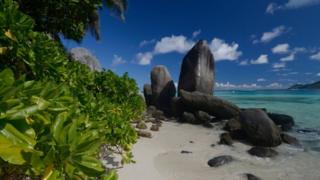 A jobless man booked holidays worth £44,000 after noting passwords used by travel agent staff, a court heard.
Adam Griffiths, 28, then accessed their systems online to book luxurious holidays in the Seychelles and Dubai.
Griffiths, of Penlan, Swansea, took photographs and posted them on his Facebook page to impress friends.
Described by the judge as a Walter Mitty character, Griffiths admitted fraud and was jailed for two and a half years at Swansea Crown Court.
Staff at Tui and Burgess Travel branches in Swansea thought he was a time waster because he spent so much time discussing exotic holidays without making a booking, prosecutor Carina Hughes told the court.
In fact, he was taking the time to note down the passwords they were using, she said.
Griffiths used the details to book holidays to the seven-star Burj Al Arab hotel in Dubai, flying first class, and even took a friend to the Seychelles on an all-inclusive holiday.
But they went hungry after discovering it was only bed and breakfast and could not afford meals out, the court heard.
Griffiths defrauded Tui of £39,466 and Burgess Travel of £4,700. The court heard he could afford to repay just £1.
His barrister Andrew Evans said Griffiths was desperate to be admired and in the past had claimed to have fought against ISIS, been close to Scotland Yard and was authorised to carry firearms.
In fact he was unemployed and lived in a council house, he said.
"You are trying to be someone you are not and went to extravagant lengths to impress," said Judge Geraint Walters.