Three mystery runners in 60th Nos Galan road races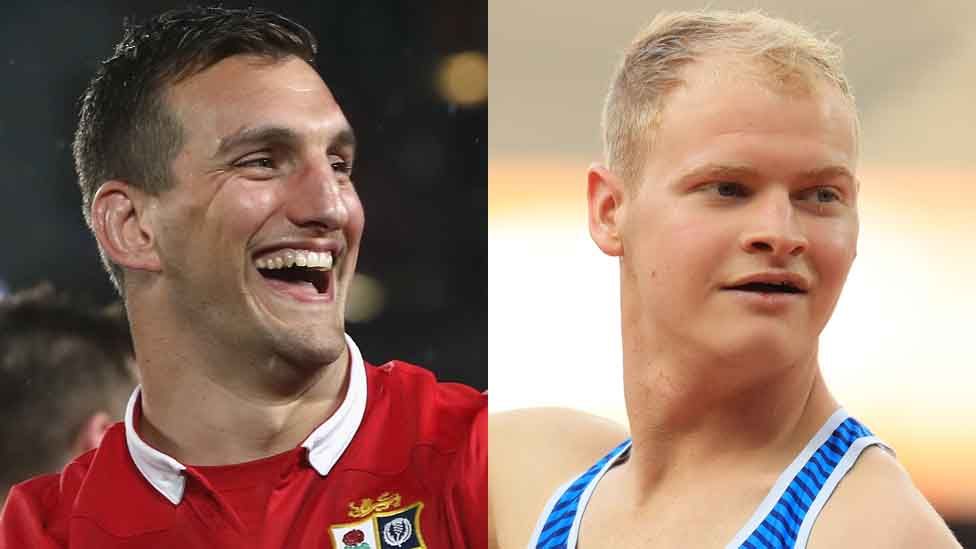 Sports stars Sam Warburton, Rhys Jones and David Bedford are the mystery runners joining 1,700 competitors in the 60th annual Nos Galan Road Races.
Former Wales rugby captain Warburton, Paralympics sprinter Jones and Olympic athlete Bedford follow in the footsteps of Linford Christie and ex-Wales football manager Chris Coleman.
The races have been run on the streets of Mountain Ash in Rhondda Cynon Taff on New Year's Eve since 1958.
"The Nos Galan Road Races are the biggest New Year's Eve street party in Rhondda Cynon Taf," said Nos Galan chairman Ann Crimmings.
"To have David, Sam and Rhys with us on this special night is a fitting way to mark this special anniversary."
Warburton said: "It's a privilege, I've got a bit more time on my hands now so I can commit to more of these events, it's great to be involved.
"New Year's is always pretty quiet for me so gives me a good excuse to get out and celebrate it a bit."
And Bedford added: "It's an event that not only Mountain Ash but Wales should be proud of."
Jones said: "I've got some legends behind me... it's brilliant.
"I'm a bit out of my comfort zone, I'm a sprinter and not a long distance boy so I'll be taking as long as I need to and not charging off."
The event - started by school teacher Bernard Baldwin in 1958 - began as an amateur race around the block, organised on a shoe-string budget raised from jumble sales and based upon the goodwill of the town.
It was inspired by a New Year's Eve race in Brazil and Mr Baldwin wanted to create the "longest race in the world" by staging an event on 31 December which "began in one year and finished in another".
About 10 people entered the first race but more turned up on the day - now it includes races for children, elite men and women, and a general fun run, with 10,000 spectators expected to line the streets.
Warburton, Wales' victorious 2012 Grand Slam captain, was revealed to the crowd an hour before the race began.
"We are delighted to welcome these three sporting greats to the town of Mountain Ash," added councillor Crimmings.
"For this special anniversary we will have three mystery runners from different sporting backgrounds and this just emphasises the popularity and appeal of the Nos Galan Road Races."
In the early years, athletes often spent the night in sleeping bags at Mr Baldwin's home and even changed in a drapers shop before the race.
Nos Galan has not been without controversy as winners have been disqualified for taking short-cuts, while police stopped the event between 1973 and 1983 over traffic concerns.
Yet the warm welcome, challenging hilly course and endearing nature of the event has attracted the biggest names in British athletics.
Dai Greene, Lynn Davies and Lillian Board are among those to have appeared as mystery runners, who also carry a torch four miles to the start line.
More recent Welsh sports stars to have taken part include rugby international Shane Williams and world boxing champion Nathan Cleverly.
Former Olympian and athletics commentator Tim Hutchings described it as "one of the greatest traditions" in the athletics calendar.
"My father organised many races for British Athletics, but he was most proud of Nos Galan because it was his hometown.
"He spent all year planning it, tapping away on his typewriter every night and our phone bill was enormous.
"There was no money or sponsors back then. We would arrange jumble sales, collections or sell programmes on the night.
"My mother and grandmother spent all day making sandwiches and I would spend Christmas Day sticking labels to matchboxes for the torchbearers."
Mr Baldwin was appointed an MBE by the Queen in 1971 for his service to athletics.
The race also celebrates the life of Welsh runner Griffith Morgan, who died 250 years ago.
He is buried at St Gwynno's Church in Llanwonno, Pontypridd, where a wreath is laid on his grave every year before the torch is carried to the start line in Mountain Ash.
Related Internet Links
The BBC is not responsible for the content of external sites.