Carly Ann Harris handed hospital order for killing daughter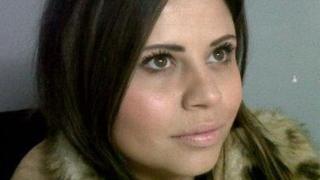 A mother who killed her daughter, believing sacrificing her would save mankind, will be detained indefinitely under the Mental Health Act.
Carly Ann Harris, 38, was suffering from psychosis when she drowned four-year-old Amelia before burning her body on 8 June.
After being cleared of murder on the grounds of insanity, Ms Harris was made the subject of a hospital order.
Her mother said Ms Harris was "not a monster" and the family was devastated.
Jaqui Harris added: "I've gone beyond tears. She is my daughter and I am devastated and I have lost my daughter.
"She is not a monster.
"I'm happy justice has been done. But I hope this tragedy highlights how people with serious mental health problems need more help and access to support."
Mr Justice Picken said: "This is a deeply sad case."
The jury heard Ms Harris developed psychotic symptoms towards the end of 2017 which developed into an acute psychotic illness by Easter.
After drowning Amelia in cold water, she took her body outside before setting it on fire.
The court heard these two acts reflected Old Testament beliefs that they assisted in the process of going to heaven.
Neighbours were alerted by children's screams and called 999 after finding Amelia's burned body.
When Ms Harris was arrested, she told police: "The angels told me to do it. Just arrest me. It's OK."
Clinical psychologist Dr Arden Tomison said Ms Harris was convinced she had to kill her child in order to protect her and save the world.
"She was very sure she had been instructed by God," he told jurors. "I am clear in my mind that she was driven to this by her own belief system."
And when asked how "how mentally ill" Ms Harris was, Dr Tomison replied: "This was a very severe, acute illness."
Defending, Kate Brunner QC said Ms Harris's life had been "ripped apart".
She added: "She remains ill but at times of lucidity she is profoundly remorseful."
A judge's legal directions meant only two verdicts in the case could be delivered - not guilty of murder by reason of insanity or guilty of manslaughter by reason of diminished responsibility.
The jury's decision to opt with the first choice means that Ms Harris has not been convicted of a criminal offence.
However, because she is deemed legally insane a judge was able to pass a sentence on her.
Mr Justice Picken: "These facts speak for themselves. A young girl rich in promise met her death at the hands of her own mother in the most horrific manner.
"I am satisfied that you were suffering from a mental disorder, namely schizophrenia, which means it is suitable for you to be remain at a hospital for medical treatment and that is consistent with the jury's verdict."
Following the end of the court case, Cwm Taf safeguarding board promised to continue giving support to Ms Harris' family.
A spokesman said: "This was a tragic incident which shocked the community. We would like to pay tribute to Amelia's family who have acted so bravely since the incident occurred."