Sick-pay showjumping NHS manager guilty of fraud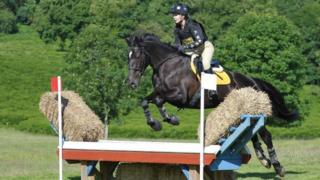 An NHS manager who went showjumping while on sick leave with chronic back pain has been found guilty of fraud.
Lab worker Elise David had claimed she was in too much pain to work, but was caught on camera jumping over fences at four country events.
David, 33, from Nottage, Bridgend county, was paid about £12,000 of her £49,000 salary while off work, Newport Crown Court heard.
She was sentenced to a 12-week jail term, suspended for one year.
David was also ordered to complete 180 hours of unpaid work and must pay £8,216.71 compensation to Cardiff and Vale University Health Board as well as £2,500 in costs.
Judge Daniel Williams said she had been "calculated, deliberate and dishonest" in claiming the sick pay.
She was off sick for four months from June 2016, saying she had back injuries and "cognitive deficiencies" after falling off her horse.
David told her employers, the Surgical Materials Testing Laboratory in Bridgend, she was "struggling to walk".
But prosecutor Nigel Fryer said during that time she took part in four showjumping events on her seven-year-old gelding called Caereau Freeway.
David's colleague Jess Bodman, an IT analyst in the labs, found her name on the British Eventing website, displaying results for 2016 and 2017.
David had told the court she took her doctors' advice to do "gentle exercise" as a green light to continue horse riding.
She underwent medical examinations "only a matter of days" after she was found to be competing at equestrian events.
Witnesses claimed David appeared to "shuffle" and said "her gait was timid" and she walked with a stick at the occupational health examinations which determined whether she was fit to work.
The judge condemned this as a "comical act", adding: "That was quite a contrast to the photographs I saw of you towering over jumps on your horse."