Cardiff homelessness: 'Clear tents tweet' councillor suspended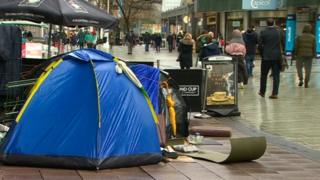 A Conservative councillor who called for homeless people's tents to be torn down has been suspended from the group.
Kathryn Kelloway was branded "inhuman" for asking Cardiff's Labour council leader to "tear down these tents".
Her Twitter post sparked a massive backlash and the Conservative group said her suspension was "in light of recent comments on social media".
Ms Kelloway said she stood by her comments and was "glad what I said has raised so much awareness".
In her tweet, Ms Kelloway called on council leader Huw Thomas to "tear down" the tents if he sought a "better image for Cardiff".
She attracted more than 2,000 replies to her original tweet and among her critics were former Wales rugby players Gareth Thomas, who said she made him "sick", and Ian Gough who called her "a disgrace to humanity".
Other people called the tweet "inhuman", "vile" and "disgusting".
In response, Ms Kelloway said: "I stand by what I said - I want to raise awareness of such an important issue.
"There's no denying there's a problem, I'm glad what I said has raised so much awareness and is a platform for people to discuss."
Mr Thomas, who the tweet was aimed at, replied: "An awfully judged tweet.
"Of course no-one wants tents in our city centre, but we have to act sensitively, and support people into accommodation with help for their underlying needs."
A spokesman for her party originally said her comments "in no way reflect the views of the Welsh Conservatives".
Then, on Friday evening, fellow Conservative councillor Jayne Cowan tweeted: "In light of recent comments on social media, Cllr Kathryn Kelloway has been suspended from Cardiff's Conservative Group. No further comments will be made at this time."
Cardiff council said it was "aware of the growing number of tents in the city" and was concerned rough sleepers were not taking up offers of specialist help to rebuild their lives.
However, some have raised concerns about the safety of emergency accommodation, which includes sleeping on the floor of hostels, according to the Local Democracy Reporting Service.