Cardiff St David's shopping centre lift 'flew up and down'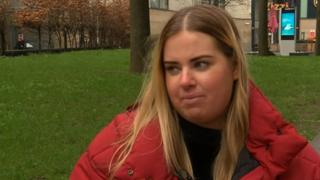 A woman stuck in a lift for almost 30 minutes as it "flew up and down" said shoppers inside were in a "state of complete panic".
Firefighters rescued 13 shaken people from St David's shopping centre in Cardiff on Saturday night.
Megan Jones said she screamed in terror while the lift went from floor to floor.
Shopping centre bosses have apologised and confirmed the fault with the lift was being investigated.
Miss Jones, from Aberdare, Rhondda Cynon Taff, had just been for food with her mother when she got in the lift.
She said: "We all got in and I noticed that there was nothing on the digital bit which shows what floor you're on.
"We just kept flying up, and then there were occasions where we dropped down to the floor, and then there was like a crash to the floor like we were hitting the bottom.
Miss Jones said people thought they were "going to have to sit on the floor because if we didn't there could be injuries".
"It was a state of complete panic. I didn't think we would get out alive, especially when we couldn't get any mobile signal."
She said when firefighters managed to rescue them everyone was crying in a mix of shock and relief.
"My mother was bawling her eyes out," she added. "She's still in a state of shock and I've had nightmares about it. We're both massively aching too."
St David's shopping centre said it recognised it was a "distressing experience" and would "offer a gesture of goodwill" for those involved.
General manager Steven Madeley said the lift had been taken out of service and repairs were being carried out.
"We'd like to apologise to those affected and thank them for their patience," he added.
A South Wales Fire and Rescue Service spokeswoman added: "We obtained the lift keys and the people inside were released safely."