Pembrokeshire set for snow after days of disruption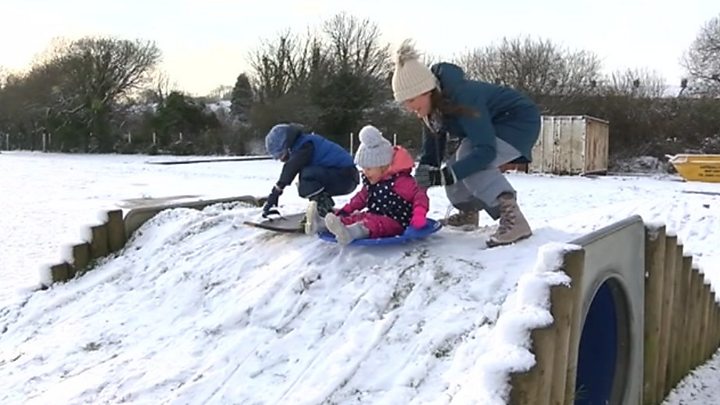 Heavy snow, hail and sleet are expected to hit west Wales on Friday night after a day of disruption.
Two yellow weather warnings are in place until Saturday across Wales - one for ice in south east Wales and another for snow in Pembrokeshire.
Wintry weather caused disruption in south Wales earlier on Friday, with hundreds of schools closed.
Welsh rugby fans trying to get to Paris for the opener of the Six Nations faced flight cancellations and train delays.
Routes in Rhondda Cynon Taff, Neath Port Talbot, Blaenau Gwent and Powys have been closed because of snow fall.
Some schools in Cardiff, Rhondda Cynon Taff, Merthyr Tydfil, Bridgend, Monmouthshire, Neath Port Talbot, Powys, and Caerphilly have been closed.
BBC Wales weatherman Derek Brockway tweeted to say Pembrokeshire could have 1-4 cm of snow in places such as the Preseli Hills.
A "Pembrokeshire Dangler" is expected, which occurs when a line of heavy showers forms over the Irish Sea. It extends from Pembroke to Cornwall.
How is travel affected?
Cardiff Airport reopened after closing due to a snow-covered runway just before midnight.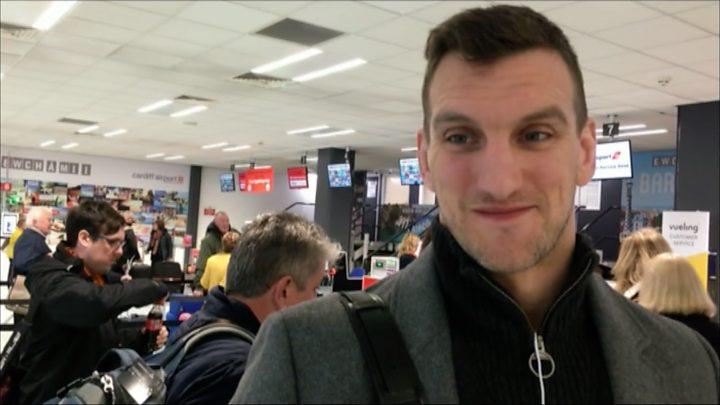 There were delays and cancellations on Friday morning however, including a 9:30 GMT flight to Paris, with ex-Wales captain Sam Warburton among those caught up in the chaos.
The airport had warned passengers to keep an eye on live flight information on its website.
Speaking to the BBC before the airport reopened, passengers due to head to Paris, some for Wales' Six Nations clash with France on Friday night, appeared relaxed.
"I'm probably too laid back for my own good so I don't mind at all," said Warburton.
"I have got 12 hours to get out there and Eurostar is plan-B, I'm sure I would get out there for kick off."
Warburton's former teammate and world player of the year Shane Williams' flight was also cancelled at Cardiff Airport, and he will now provide co-commentary for BBC Radio 5 Live from a studio in Wales instead.
Meanwhile the Wales women's rugby team had their Friday morning flight from Bristol to France cancelled. They are set to play in Montpellier on Saturday evening.
A spokeswoman confirmed the team had now booked an early flight on the morning of the match from Heathrow Airport.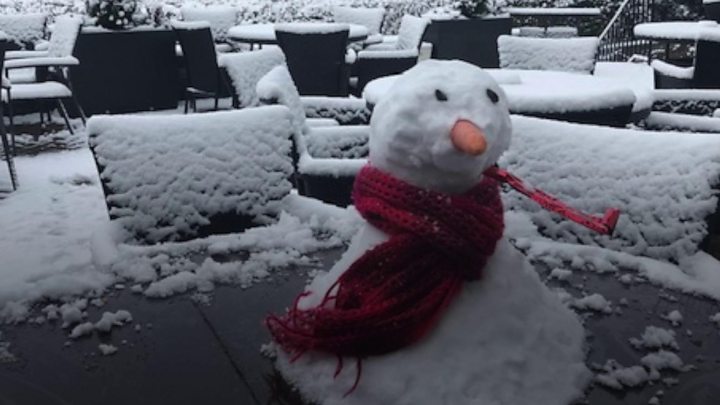 Bristol Airport said all flights were cancelled until at least midday due to snow, including flights to Paris.
Wales Rugby fan Leon Brown said he was due to fly out of Bristol at 14:00 GMT, but had received a text to say his flight had already been cancelled.
He said he was now looking to sell his two match tickets, adding: "We did look at the Eurostar. Should never had sold my 4x4. I would have driven."
There was delays on the Eurostar, but no cancellations.
Stagecoach Wales said it was unable to run bus services from its Blackwood depot in Caerphilly county and it advised passengers to check its website for updates.
Meanwhile, Cardiff Bus and First Cymru said some services had been affected.
Transport for Wales said that their rail services had been reinstated on Friday afternoon.
Hazardous driving conditions have been reported on a number of roads, including the A470 between Brecon and Merthyr Tydfil and the A4059 between Storey Arms to Hirwaun.
South Wales Fire and Rescue Service warned of black ice as temperatures drop this afternoon, advising drivers to go slowly.
Gritters were out in the snow in Ceredigion, with the council saying they will be gritting the primary roads today.
Roads have been shut in Treherbert, Treorchy, Neath Port Talbot, Aberdare and Blaenau Gwent.
The Bwlch mountain road has also been closed along with the Maerdy and Rhigos routes.
BBC Wales weather presenter Sue Charles said that while the worst of the snow had passed in south Wales, there could be snow showers later in Anglesey.
The AA has advised motorists to carry a "winter survival kit" containing items such as an ice scraper, de-icer and a blanket.
Snow day
About 550 schools were closed in south Wales.
While it was a major inconvenience for some, other were enjoying a morning of snowball fights and sledging.
In Pontyclun, Rhondda Cynon Taff, excited children were out on their toboggans.
"They're loving it. They've been since about half past five asking to go out in it," one mother said.
'Real emergencies'
Wales' four police forces said they expected an increased number of calls but Dyfed-Powys Police warned people to call only if weather-related issues were "urgent".
The Welsh Ambulance Service also asked people to think "whether it's a real emergency before calling".
Snow fell across parts of Wales on Wednesday and the freezing conditions continued to cause problems on Thursday.
Snowdonia National Park Authority wardens has asked mountaineers to stay off the slopes of Snowdon and other peaks in Snowdonia while the snowy conditions continue.
It comes after a man was injured in an avalanche on Snowdon on Tuesday.
The director of the National Trust in Wales, Justin Albert, was among dozens of drivers who spent the night in their car after they were left stranded on a road in the south West of England on Thursday night.
"What was amazing was how everyone dealt with the crisis in an amazing spirit," he told BBC Radio Wales' Good Morning Wales programme.
"There were families in their cars for eight, nine, 10 hours, not moving. It was horrible and an emergency but the upside was that it brought out the best in people," he said.