Graffiti artist Ame72 in surprise Port Talbot street art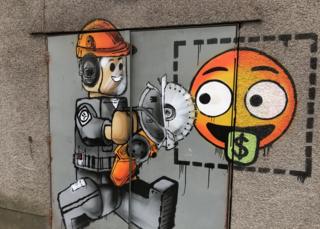 A second acclaimed graffiti artist has used two areas in Port Talbot as a canvas.
In December 2018, Banksy confirmed an image on a garage in the town depicting a child enjoying snow falling was his work.
Now, Ame72 has picked the steel-making town to display two of his pieces.
A Lego-style man was spotted on ABC Tyres on Saturday, while a second Lego-style man with a circular saw was found on the side of Taibach RFC.
The two new designs have been given the thumbs-up by locals in Taibach, who reckon the region could become a hotspot for street art.
Local AM Bethan Jenkins said: "Port Talbot should try and capitalise on this new flowering of artwork. Who knows where it might lead?"
The manager of ABC Tyres, Tony Evans, 72, said: "I came in to work at 8am and I thought we'd been vandalised at first.
"But then when I took proper look I was gobsmacked at how amazing this piece of graffiti was.
"Word soon got out and people have been flocking here to have a look."
Taibach RFC secretary, John Daniels, said similar of the artwork found on a door.
"We knew it wasn't a Banksy, but if it also brings more people to Port Talbot it's all good," he said.
The anonymous artist Ame72 said he decided to come to Port Talbot after being e-mailed by steelworker Garry Owen - who last year sent Banksy an Instagram message asking him to come to the town.
Ame72 told BBC Wales: "I was asked to highlight the dust problem [in the town] and I happened to be in the UK at the time so we went down and had a look."
"It was so cold. We were freezing but I'm happy with the result given the adverse conditions."