Welsh sanctuary tries to adopt 'bullied' ape Bili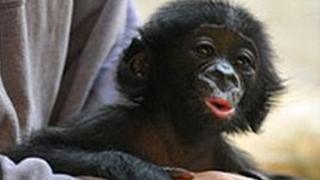 A Welsh animal sanctuary has offered to adopt an ape some campaigners believe is being bullied at a German zoo.
More than 400,00 people have signed two petitions calling for the bonobo ape Bili to be moved from the facility in Wuppertal, near Dusseldorf.
Graham Garen from the Wales Ape and Monkey Sanctuary, Powys, has travelled to the zoo and wants to adopt Bili.
But officials strongly refute bullying claims and say aggression can be common as a new male is integrated.
Bonobos are humankind's closest relatives, along with chimpanzees - sharing more than 99% of the same genetic make-up.
The petition was started after video footage on Youtube suggested other apes were ganging-up on Bili, who arrived at the zoo in November.
It reads "he looks as if his spirit has been broken".
"Zoo officials still think there is a chance Bili can be integrated into the community of his fellow chimps but others aren't so sure," the petition adds.
"British activists are fighting to save him and get him out of Germany and back to the UK where he can have a life out of the zoo in a sanctuary."
After seeing coverage, Mr Garen travelled to the zoo, met officials and offered to take Bili back to his Abercrave sanctuary, which has a variety of animals, such as chimpanzees, gibbons, baboons and spider monkeys
"They won't budge and said because we have no bonobos at our sanctuary, he would be on his own," said Mr Garen.
"But he needs time on his own, to be rehabilitated, not in a violent situation."
Born at Twycross Zoo, Leicestershire, in 2008, Bili's mother rejected him.
"The best thing to do is to send him to Frankfurt where he can grow up in a group and with a mother who will be looking and caring after him correctly," the zoo's Kim Riley said at the time.
But he was later moved to Wuppertal after females refused to mate with him.
And now there are claims he is being bullied by twin males Azibo and Ayubu.
The zoo has disputed this, stating: "In the course of familiarisation, which is known to be problematic especially in male bonobos, Bili had to endure some injuries due to typical types of aggression.
"These led to massive allegations against the zoo, which, however, must be clearly contradicted."
Zoo officials said the accusations were "very emotional and not very factual", characterised by a call for Bili to move to an environment with no other bonobos.
"The animal would thus lose the opportunity to settle into a stable social group," they added.
"An accommodation in an animal park, who has no experience in the attitude of bonobos and also does not care for this species, would also mean that Bili would spend his life in social isolation.
"Perhaps many discussion participants are unaware that such a measure does not increase the welfare of the animal, but on the contrary would have a lasting negative impact and thus would not be animal welfare."
The statement concluded specialists from the European Conservation Breeding Program do not feel it necessary to abandon the familiarisation programme.
"Time-outs" are being used to tackle the aggression, with it still hoped the integration will be successful.