Carl Sargeant inquest set to reopen in Ruthin in July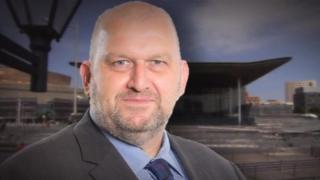 The inquest into the death of former AM Carl Sargeant is expected to reopen in July.
Mr Sargeant was found dead at his home in Flintshire in November 2017. The minister faced allegations of inappropriate behaviour towards women, which he denied.
The hearing is provisionally set to be heard on 8 July at in Ruthin by coroner John Gittins.
An inquest adjourned in November gave a preliminary cause of death as hanging.
The coroner halted proceedings following legal challenges and to hear more evidence.
The Sargeant family's representative Neil Hudgell said they were "grateful" for the coroners' "careful consideration".
He added: "It is very important for the Sargeant family to have a date set.
"They continue to hope that the inquest will allow them some much needed answers about the circumstances surrounding Carl's untimely and tragic death."