Honda closure impact for up to 12 Welsh suppliers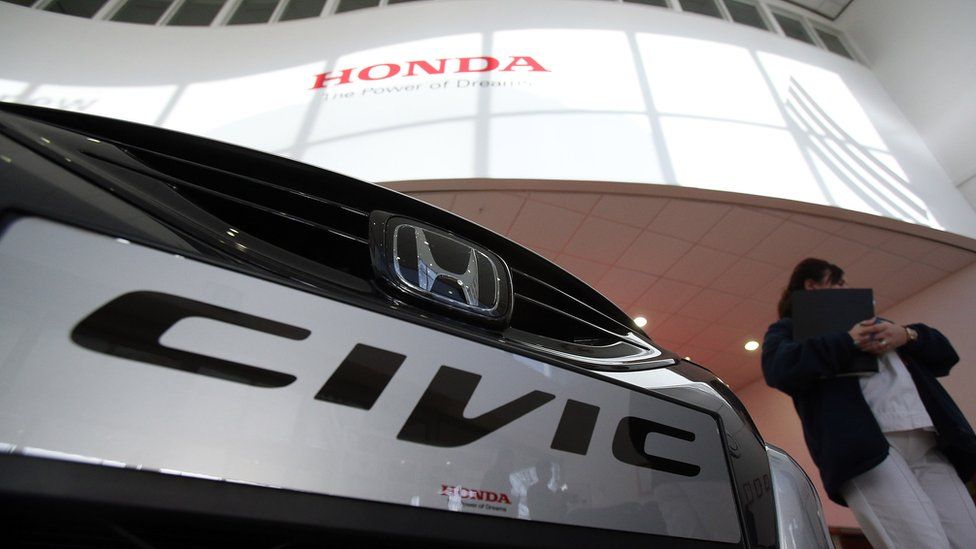 As many as 12 Welsh suppliers will be hit by the decision to close Honda's UK factory in Swindon, motor industry insiders have said.
The Japanese car maker confirmed it will close its only EU plant in 2021 - with the loss of 3,500 jobs.
But the Welsh Automotive Forum has warned there will be an impact in Wales, among the companies that directly supply the car maker.
Kasai in Merthyr Tydfil employs 200 people supplying both Honda and Nissan.
It said it would not be commenting until it had the opportunity to fully evaluate the impact of the news.
Merthyr AM Dawn Bowden said large numbers of people working in supply chains in Wales would be very worried.
"Whatever the reasons behind Honda's announcement, my focus is on the practical task of getting as much support as possible in to those local companies that face uncertainty," she added.
One worker arriving at the plant said: "It's pretty obvious, we make for Honda - what's going to happen's going to happen. I think personally Brexit is going to be a problem for a lot of companies and no-one has got the guts to say it."
Tim Williams, of the Welsh Automotive Forum, said: "It is going to have an impact on suppliers in Wales and that's the analysis we are working on.
"There's about 12 companies in Wales we are working with, which are strategic.
"We have to work with Welsh Government to see what percentage Honda is to our companies in Wales and if they lose that business what impact does that have on the companies and how do we help them."
In contrast, Toyota has said it will continue production at its engine plant in Deeside.
Economy minister Ken Skates said he was "very concerned" at the news from Swindon and called it a "sad indictment" of the UK government's approach to Brexit.
"Wales-based suppliers to the Honda Swindon facility will of course be impacted by this news," he said.
"Together with the Welsh Automotive Forum and the UK government's business enterprise and industrial strategy department, my officials will be working with these companies, utilising all available resources to help where possible."
Plaid Cymru's economy spokesman Rhun ap Iorwerth said it had sent shockwaves through the automotive industry and he had tabled an urgent question asking the Welsh Government about the steps needed to support component manufacturing.
"Thousands of Welsh jobs are involved and I will do what I can to ensure the workers and suppliers whose livelihoods are at risk are supported," he said.
Analysis from Brian Meechan, BBC Wales business correspondent
The confirmation of the closure of Honda's Swindon plant is causing real concern across Wales' automotive industry.
For every one job in the sector, it is estimated that another four people are indirectly employed.
With 3,500 jobs at risk in Swindon, it raises questions about the impact on the dozen companies in Wales who supply Honda.
The car industry is going through dramatic change, especially with the move to electrified vehicles.
Honda said Brexit was not the driving force behind its decision.
However, global businesses need to take into account changes in the international market.
Japan has signed a trade deal with the EU with zero tariffs on cars, while there is still no clear sign of what the UK's trade with the EU will look like after Brexit.
The industry's future is in the development of electric vehicles.
Experts including Prof David Bailey from Aston University said the UK can be a hub for the manufacturing of electric cars but it would require the UK to be in a customs union with the EU and have access to the single market.
As importantly, they argue, it also needs government action, both in supporting companies investing in new technologies and by encouraging the public to take up electric cars.
How important has Japan been to the Welsh economy?
Analysis by Sarah Dickins, BBC Wales economics correspondent
There are 50 Japanese companies in Wales, employing 5,700 people.
Its success in aggressively courting Japanese companies, particularly in electronics, in the late 1980s and early 90s had a significant impact and reduced the pain of pit closures and cutbacks in the steel industry.
Japanese firms were eager to set up in Europe to benefit from the establishment of the Single Market in 1993 and also to make products near to their growing European customer base and they found it easier to work in the English language.
Wales was particularly successful in the fierce competition within the UK for jobs. Despite having 5% of the UK population, between 1979 and 1991, Wales won 14% of the investment from foreign-owned firms into the UK. That proportion rose to 16% by 1993 and Japan was the second largest investor in Wales after the USA.
Japanese companies also brought new styles of management. The notion of continuous improvement - or "kaizen" in Japanese - led to an efficiency culture. At the same time flatter management structures were introduced. Senior managers would regularly walk the shop floor, wearing the same uniform as the workforce.
There was also "just in time" production, which saw parts ordered from suppliers at very short notice and bringing greater efficiencies in production and stock-holding.
Japanese firms also generally prefer dealing with a single union.
What we have left after more than three decades is a complex web of supply chains supporting the many Japanese companies that are still here.
Beyond the jobs, their impact has been profound in the ways many now work and do business.