Welsh Youth Parliament: mental health made priority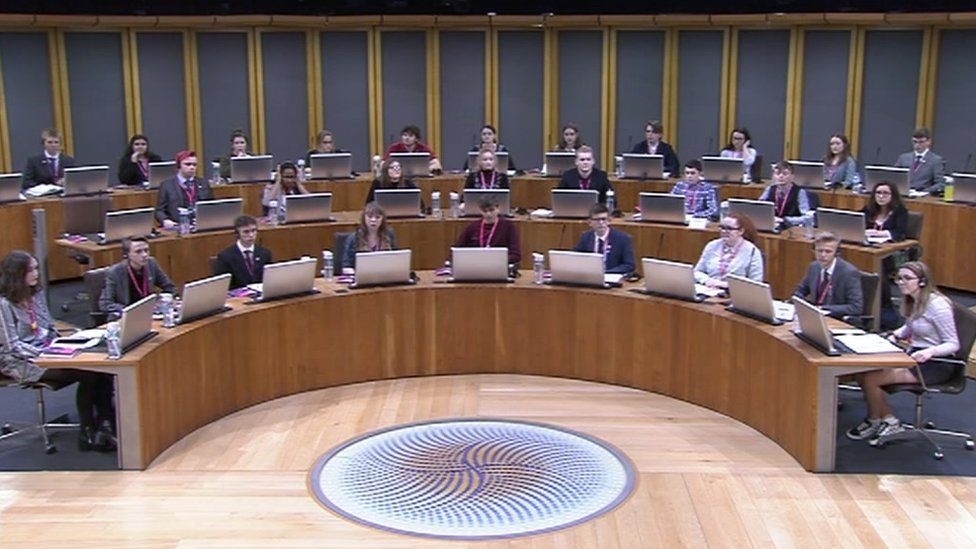 The first Welsh Youth Parliament has voted to prioritise mental health support.
The country's first-ever meeting of the newly-elected parliament took place on Saturday.
It is made up of 60 young people - 40 elected in an online ballot and the rest from organisations and charities.
Member Arianwen Fox-James said: "If suicide is a leading cause of death, why are we not supporting young people?"
All members of the Welsh Youth Parliament (MWYP) are aged between 11 and 18, live in Wales and will serve a two-year term.
More than 25,000 young people registered to vote electronically in the elections last November.
In its first-ever session, more than 40% of members supported prioritising emotional and mental health support in the parliament's two-year term.
Miss Fox-James, member for Brecon and Radnorshire, said: "Everyone in this room will struggle with confidence at one point in their lives, but everyone here has a common goal of giving our people acceptance and appreciation.
"Teenagers everywhere are feeling alone and have nowhere to turn to. "
The plenary session at the Senedd in Cardiff was led by Welsh Assembly presiding officer Elin Jones and saw members discussed issues, including the Welsh language and culture, life skills in the curriculum and plastic waste.
Here we go. History is being made. Young people's voices are about to be heard for the first time at the heart of democracy in Wales. The #WelshYouthParliament Mambers will debate and vote on the issues most important to them and the young people of Wales. pic.twitter.com/gtR55yvaJr

— Welsh Youth Parliament (@WelshYouthParl) February 23, 2019
Jonathan Powell, who represents Wrexham, said cuts to council music services to balance budgets "will ultimately lead to the devaluation of our Welsh culture and heritage".
He called for a "national model" to provide an "affordable music service".
The assembly said the parliament would "empower young people to identify, raise awareness of and debate the important issues which matter to them".
Representing young people in their communities, members told BBC Wales they would be using the platform to highlight issues such as the environment and their education.
Maisy Evans, representing Torfaen, said: "Young people's voices are not heard enough so when we were given the opportunity to make a change, I wanted to be a part of that."
And Ubayedhur Rahman, of Swansea West, added: "I wanted to save the environment and give younger children the chance to say what they want this country to turn into and how we should go forward in the future.
"I did a survey in my school and 39% of the 1,300 responses said I should talk about plastic waste and littering in the chamber."
Manon Antoniazzi, chief executive of the National Assembly, said the session said the event was the culmination of months of planning.
"We are very keen that, as a basic principle, we turn the reins over to the young people and they get a chance to decide what they talk about and make sure there's an opportunity for them to feed those ideas into the deliberations of the Senedd," she added.
Related Internet Links
The BBC is not responsible for the content of external sites.