Aberdare fire: Four people rescued from flat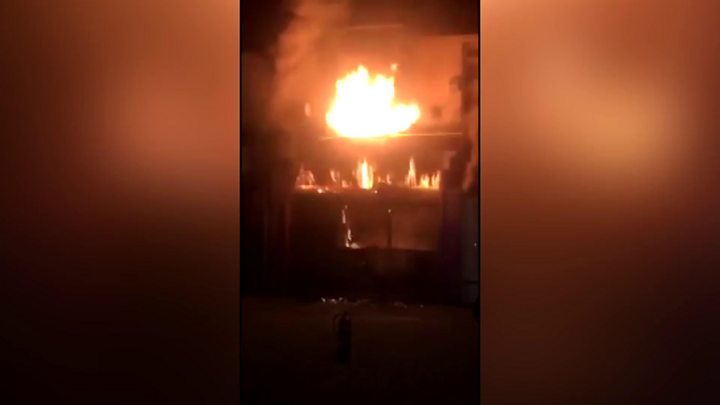 Four people have been rescued from a first-floor flat fire.
South Wales Fire and Rescue Service was called to Premier Stores on Market Street, in Aberdare town centre, at about 22:20 GMT on Wednesday.
Chandra Narra, his wife, their three-year-old daughter and a friend were rescued from the flat above the shop he owns.
It is the second time a fire has broken out on the premises in the last two months.
The cause of the blaze, which started on the ground floor, is being investigated.
Mr Narra said: "If it wasn't for [the fire service] we would be dead.
"It is a disaster for me and my family. Nobody expects something like that to happen to them."
Mr Narra said he was in the flat with his friend, while his wife and daughter were sleeping, when the fire alarms started going off.
"We tried to come down to the main door of the flat but we couldn't because of all of the smoke," he said.
"There is a fire exit window at the back of the flat and on to a flat roof. We were shouting for help, but unfortunately nobody was there."
They were given medical assistance by the Welsh Ambulance Service and taken to hospital as a precaution.
Dai Bents, from the service, said one crew remained at the scene.
He told BBC Radio Wales: "I've got to pay tribute to our control room staff, who carried out fire survival guidance to the occupants to keep them safe until our frontline crews arrived.
"It's very difficult in the sense it's a built-up area, it's a shopping centre, the accommodation's above, so it's difficult access."
The cause of the fire is being jointly investigated by South Wales Police and South Wales Fire and Rescue Service.