Betws-y-Coed residents are evacuated after mountain fire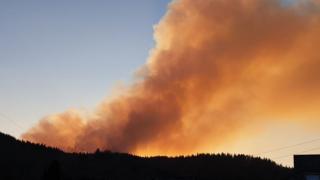 Residents have been evacuated after a mile-long mountain fire spread into forestry and threatened properties.
Efforts to assess the extent of the fire in Betws-y-Coed, Conwy county, are still ongoing, North Wales Fire and Rescue said.
Six crews and an incident command unit were at the scene alongside the police at the height of the fire.
There are no reports of injuries following the blaze that was reported at 16:15 GMT.
North Wales Police said residents from at least four properties close to the fire were evacuated as a precaution.
By 22:20, two crews were left at the scene.
Helen Fisher, of Betws-y-Coed, said that the flames appeared to be "the height of trees", through her partner's camera.
Ms Fisher noticed the fire at about 17:30 GMT and saw the smoke across the Conwy valley.
"I think it is considerable," she said.
"There was a grey trail of smoke all the way across the Conwy valley to the coast."
'Increased risk'
Kevin Roberts, assistant chief fire officer, said the force is urging visitors to the countryside to take extra care.
He said: "The dry weather has increased the risk of rural fires and we would like to thank those people notifying us of their controlled burning and for them acting in a safe and responsible manner.
"During drier periods, fires involving grass, bracken and heather can develop very quickly, particularly in raised winds, resulting in fires getting out of control and spreading to neighbouring properties or forestry, with the need for the fire and rescue service to be called out to extinguish them."