M4 Prince of Wales Bridge crash driver released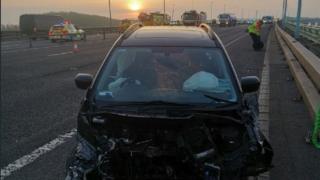 A crash on the M4's Prince of Wales Bridge caused "total carnage", leading to significant hold-ups, police said.
The collision at about 05:55 BST caused three lanes to be shut across both carriageways for about three hours.
Gwent Police said the driver of the black Mazda was arrested at the scene on suspicion of drink driving but was later released with no further action.
The engine of one vehicle was "propelled into the opposite lanes", the force said.
No serious injuries were reported although paramedics were called to the scene.