Snowdon and Pen y Fan: Busy mountains 'need investment'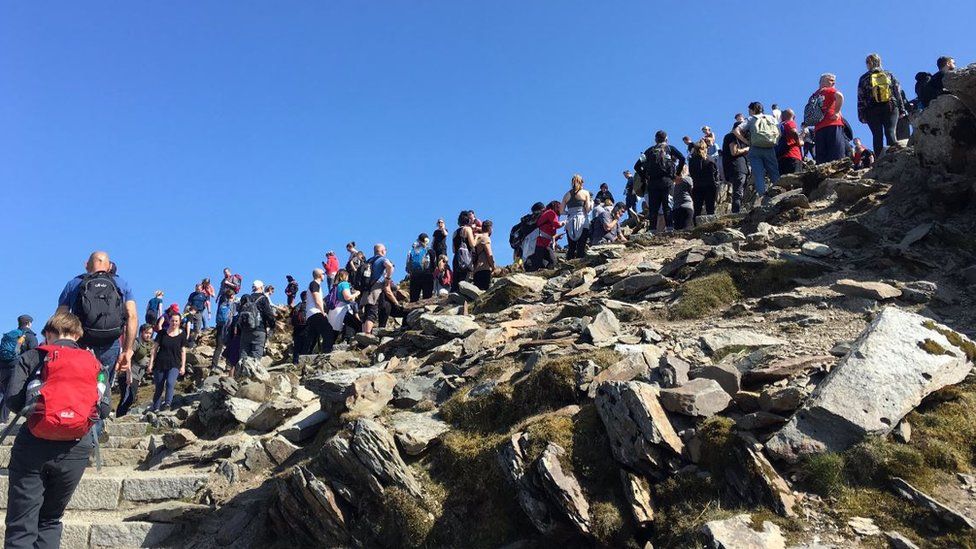 Crowds queuing at the peaks of Snowdon and Pen y Fan highlight the need to invest in infrastructure around Wales' mountains, authorities say.
More people are visiting the peaks in north and south Wales, with pictures showing crowds at the summits over the Easter holiday.
But the British Mountaineering Council (BMC) said money must be spent on better facilities.
The Welsh Government said £2m was being spent on improvements.
Train tickets to the summit of Snowdon sold out in advance of last month's 10th anniversary of the Hafod Eryri visitor centre.
Photos on social media also showed crowds and queues of people waiting patiently to take photos at the best vantage spots - with similar scenes at Pen y Fan in the Brecon Beacons.
The most British thing you'll see on a bank holiday: people queuing orderly at the top of a mountain just to take a photo. And yes, I have just joined that queue. #Penyfan pic.twitter.com/WEJYm7cxt6

— Ben Maizey (@BlockA_Row3) April 19, 2019
That has given rise to concerns that tourists are being affected by overflowing car parks, a lack of toilets and limited transport.
And with visitor numbers expected to rise in the coming months, there are fears over the impact tourism will have on the local environment and community.
"We've got a problem with infrastructure here in Wales," said Elfyn Jones, of the BMC.
"It's great to see tens, if not hundreds of thousands of people enjoying the Welsh countryside - but how can we cope and deal with so many people?
"Footpaths are being eroded, car parks are overflowing and we don't have enough facilities for litter or toilets.
"We need to invest in our infrastructure if we are to maintain this growth in people coming here.
"It's also absolute chaos for the locals trying to live amongst it."
Last year, volunteers removed 400 bags of litter from the mountain.
However the Snowdonia National Park Authority said popular tourist spots were still in "desperate need of major investment".
Helen Pye, head of engagement, said: "Visitors bring an estimated £69m of economic benefit annually to the Snowdon area alone. But it is also having significant impacts on the local community, the mountain and the environment of the area.
"We're also increasingly concerned that the current standard of infrastructure is beginning to affect people's experience of Snowdonia and of Wales as a destination.
"We and other partners are doing our best with the limited resources we have. Snowdonia National Park Authority has half the resources it had 20 years ago [but] visitor numbers have at least doubled."
It has called for investment in visitor infrastructure at Pen Y Pass and Llanberis, in particular, and urged a "major review and overhaul" of car parks and transport in the area.
However the Easter crowds were good news for Kay Jones, the owner of Kay's Kitchen at the bottom of the mountain, who said: "It's been busier than it has been, ever."
The Brecon Beacons National Park Authority admitted "more needs to be done" but that they faced financial pressures.
"It's important that visitors have a positive experience and support the local economy," delivery director Steve Gray said.
"It's great to see people visiting the park and enjoying the health and well-being benefits on offer. However, high levels of visitor numbers can sometimes cause problems.
"The images we saw over the Easter weekend highlight the need for further investment in improving visitor infrastructure."
A Welsh Government spokesman said: "Earlier this year we announced £2.2m to improve our tourism infrastructure, including improvements to parking, cycle paths and toilets, and we'll continue to work with our national parks and local authorities to make access to our most popular destinations even better."
Related Internet Links
The BBC is not responsible for the content of external sites.