Keeping Faith: 'Creepy' comments over Eve Myles's legs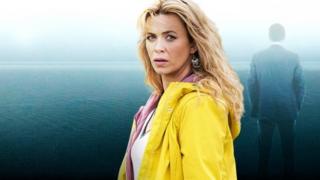 A TV critic's comments about Eve Myles's legs have been called "bigoted" and "creepy" by the actress's husband.
Bradley Freegard, who stars with Ms Myles in the drama Keeping Faith, criticised the comments of a columnist of Welsh language magazine Golwg.
Huw Onllwyn reviewed the opening episode of the drama's second series, which aired on S4C in Welsh on Sunday.
Mr Onllwyn said he was questioning why producers had dressed Ms Myles in "high heels and a short skirt".
In this week's edition of Golwg, Mr Onllwyn wrote: "There's no doubt that Eve Myles has lovely legs - which look even better in a pair of high heels."
He also said Ms Myles's legs were one of the only things in the first episode that would make him watch the second.
The English version of the drama's new series will be on BBC One in the summer.
Responding to the criticism, Mr Onllwyn said he believed Ms Myles had been dressed specifically to boost ratings and had used an "ironic and satirical approach" to "highlight the issue".
He apologised that "this element of satire was not conveyed clearly enough".
Mr Onllwyn's comments were criticised by some social media users, including Mr Freegard who plays Evan Howells in the TV series.
Mr Freegard tweeted: "Such bigoted views are totally unacceptable and lets be honest down right creepy."
Miriam Isaac tweeted after she read the article that it "objectified women".
Ms Isaac, 30, who lives in Cardiff said: "Straight away I felt upset and I was angry, embarrassed because I thought - really?
"For too long women have accepted that this sort of behaviour is OK and I thought no, it is time to speak out."
She added the hundreds of likes and re-tweets to her post was "amazing to see so many different people who didn't want to stand for it".
Dylan Iorwerth, editorial director of Golwg, said: "Columnists express personal opinions, but myself and Golwg's editor will discuss the content of this column and will seriously consider the comments that have been made."