First free Urdd Eisteddfod begins in Cardiff Bay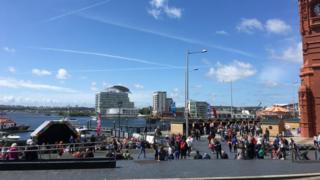 The first Urdd Eisteddfod to offer free entry has made it more inclusive, according to people who attended.
Organisers said the number of registered competitors had increased from 65,423 in 2018 to 70,530 at this year's eisteddfod in Cardiff Bay .
"It has made a massive difference - anyone can come along," a woman attending with her friend said.
Organiser Morys Gruffydd said he was "delighted" with the increase in "enthusiasm and commitment" this year.
More than 100 stalls are on show on the Maes, along with competitions, games and shows.
Competitions range from dancing, singing and reciting to cooking, art and hairdressing.
"I think it's a brilliant Eisteddfod," one woman said as she toured the sunny Maes on Bank Holiday Monday.
"It's got a lovely Maes this year - it's very spread out but there's lots to do."
Her friend added: "There are lots of different stores to walk around and see."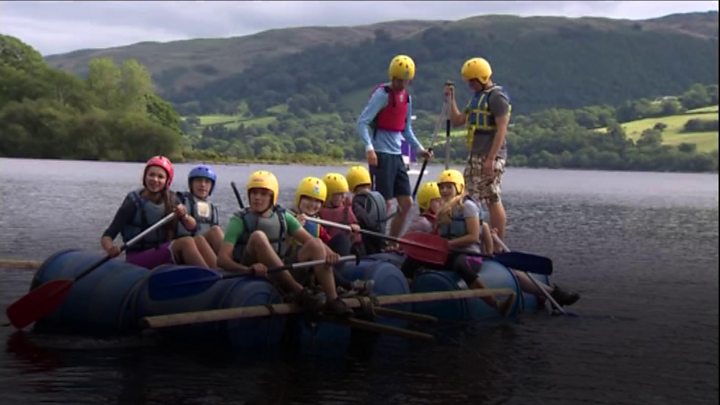 When the National Eisteddfod visited Cardiff, it made a £290,000 loss despite half a million people attending.
The last time the Urdd Eisteddfod came to the capital was a decade ago - and it appears attitudes to the Welsh language are changing.
"It is a fantastic opportunity for us to be here in the Eisteddfod which is on our own doorstep," said Rhian Carbis, head teacher of Ysgol Hamadryad, a Welsh language primary school in the multicultural Butetown area of Cardiff.
Stephen O'Reilly and Lisa Freeman do not speak Welsh, but they love the fact their daughter Hope is able to learn at Hamadryad school, which opened with just 17 pupils in 2016 but now has more than 100.
"We thought that taking her into adulthood, looking for opportunities and jobs in Wales, she would be in a much better position if she spoke Welsh," Ms Freeman said.
Mr O'Reilly added: "We just felt that being bilingual was a huge part of living in Wales, and we thought it would stand her in good stead in the future."