Port Talbot Banksy mural move to get under way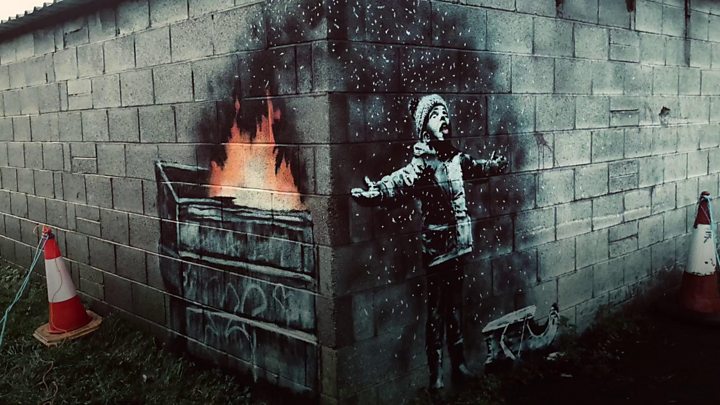 The owner of a Banksy artwork will have his "eyes closed" as he nervously waits for it to be moved.
Contractors begin transferring the piece - painted across two external walls of a Port Talbot garage - to a new gallery in the town on Tuesday.
Essex-based gallery owner John Brandler paid a six figure sum for Seasons Greetings and described it as one of the artist's most important works.
The graffiti on steelworker Ian Lewis' garage appeared overnight in December.
"It's such a massive piece. It's gone from a Banksy that appeared on a wall to the Banksy," he told Claire Summers on BBC Radio Wales.
"I own about a dozen Banksys and this is the one I am proud to own.
"It's such an important piece - it talks about pollution, it talks about children, it talks about our future. Not just in Port Talbot, not just in Britain but on this planet."
He said these are the things Banksy "is famous for" and he will be watching the removal with "trepidation".
"I'll be hiding behind the corner with my eyes closed like when I was a child watching Doctor Who, hiding behind the sofa.
"It will be the same feeling," he said.
The removal team have previously spoken of their "sleepless nights" over the task.
Contractors have spent weeks preparing for the move.
Dave Williams, a civil contracts manager, is in charge of moving the 4.5-tonne corner section to the Ty'r Orsaf building.
The wall has been covered in resin to prevent it crumbling, and wooden framing is already in place to keep the wall upright as it is cut.
If all goes to plan, a crane will be used to lift the sections of cut wall on to a wagon on Wednesday.
Police will then escort the HGV as it transports the artwork across town.
On Thursday and Friday, the team is expected to make sure the wall is protected and secured in place at Mr Brandler's street art gallery.
It will be housed in a ground floor commercial unit of a development of shops and flats opposite Port Talbot railway station.
This belongs to housing group Pobl and the decision to give Seasons Greetings a new home there was made after meetings between Mr Brandler, Neath Port Talbot council and the heritage body Cadw.