Met Office weather warning lifted after heavy rain and flooding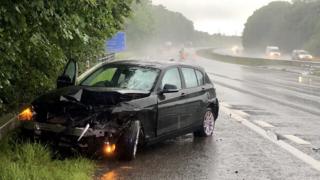 A warning of heavy rain has been lifted, but showers are expected to continue into Thursday evening.
The weather warning for north east Wales was lifted at 12:00 BST on Thursday.
On Wednesday, two children were among four people rescued through the roof of a car after it was swept into a river following heavy rain.
Police appealed for people to take care with the difficult conditions on the roads after crashes on the A55 and M4.
Emergency services and council officials set up a central command centre at North Wales Police headquarters, Colwyn Bay, to co-ordinate efforts due to flooding affecting some properties and roads.
Rail services were also affected with Transport for Wales advising passengers to check the status of services before travelling.
Denbighshire council said bus services to Llanarmon yn Ial would not operate until further notice.
In south Wales, police asked motorists to "slow down and allow more time for your journey" after a car crashed near junction 37 on the M4.
On Wednesday, the River Alyn burst its banks at Rossett, Wrexham, where it was recorded at its highest level - 2.11m (6ft 10in) - since a new gauge was installed in 2010.
More than 60mm (2.3in) of rain fell in parts of north Wales on Tuesday night - June typically has about 85mm (3.3in) in total. Powys had 24-25mm (up to 1in) in the last 24 hours.
Natural Resources Wales has several flood alerts in place across north Wales and Powys.
Jonathan Edwards returned to his house on Thursday morning to start the clean-up work after it was flooded on Wednesday, along with six other homes in Pentre, Deeside.
"All the floors are ruined completely and have to come out throughout the house," he said.
"I'm going to start stripping it all out today and see what damage has been done."
He said he phoned his insurers to start the claims process but had to hang up to continue pumping out water yesterday.
"I was more concerned with keeping the water out," he told Claire Summers on BBC Radio Wales.