Welsh pensioner, 73, missing on Zante island holiday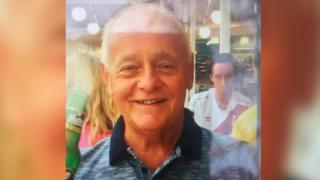 A family from Wales are appealing for information after their 73-year-old father went missing in Greece.
John Tossell from Bridgend went missing after going for a walk on a mountain on the Greek island of Zante on 17 June. He was on the third day of a holiday with his wife.
Emergency services have now scaled back a search after spending a week looking for him.
His family have gone over to Zante to continue the search.
Katy Tossell, his daughter, said police, mountain rescue and coastguard have been involved in the search.
She described him as "quite an active man" and said he had climbed to the top of the monastery on the mountain when he was last seen.
"He left at 10:00 and we know he got to the top of the monastery as there was a sighting by the cafe owner," said his daughter.
"There have been police, mountain rescue and coastguard involved and no sign. Today the search has been massively scaled down.
"We have no idea what might have happened.
"He didn't have his passport with him and only had about 10 Euros."
Bar owner Socrates Valvis said he had helped in the search for Mr Tossell, and was surprised he still had not been found.
"It's not a big area," he said.
"You have to stay on the paths - it's too difficult to go across the country, even the goats cant walk there.
"I'm training for an ultra marathon and go running there - it's not possible for me top walk off the path."