Peter Colwell death: Gamekeeper guilty of shotgun manslaughter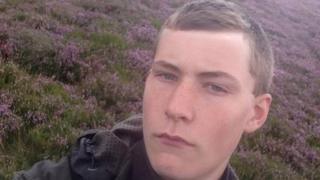 A gamekeeper has been convicted of killing a teenager who was accidentally shot with a gun in a car.
Peter Colwell, 18, died in the car park of the Ship Inn, Llanbedrog, near Pwllheli in Gwynedd in February 2017.
Ben Wilson, 29, of Ely, Cambridgeshire, who owned the shotgun, had denied gross negligence manslaughter.
Ben Fitzsimons, 23, of Nanhoron, Pwllheli, was cleared of the same charge by a jury at Caernarfon Crown Court.
At an earlier trial, Fitzsimons was found guilty of possessing a loaded shotgun in a public place - Wilson pleaded guilty to the same charge.
Mr Colwell had been out with Fitzsimons and Wilson and two other men drinking in several pubs on the day he died.
The court heard Wilson's loaded shotgun was being stored in the footwell of a Land Rover, with the muzzle pointing towards the rear of the vehicle.
The gun was accidentally discharged by Fitzsimons after he and Mr Colwell were waiting for Wilson to return to the car, which was parked at the Ship Inn.
Giving evidence earlier in the trial, Fitzsimons, who also worked as a gamekeeper, told the court he checked the gun when he got into the car at a previous pub as he knew there were people in the back seat.
He removed one cartridge from the gun and "racked" it (tested the semi-automatic sliding mechanism) twice more and, as no further cartridges were ejected, believed the weapon to be safe.
He said it was not his weapon and not his responsibility, but agreed he must have set off the gun - but had no recollection of how that happened.
Wilson told the court he had left the vehicle as the others got in as he needed to go to the toilet, but rushed back when he heard a loud bang.
Both men will be sentenced on Thursday and Judge Rhys Rowlands told them: "I will grant you bail, but you shouldn't read anything into that. You must prepare yourself for a custodial sentence."