Cardiff street closed by police after 'gunshot' reports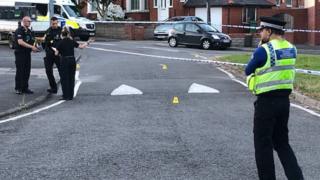 Armed police closed off a street in Cardiff following claims from residents of sounds "like gunshots".
It came during reports of a disturbance involving a group of men in New Road in Rumney.
South Wales Police said armed officers were in the area "as a precaution" for the safety of the public, but said no injuries had been reported.
Police confirmed they had received information those involved were armed.
There was a heavy police presence in the area from about 18:15 BST on Monday, but the road was reopened before midnight.
One woman, who did not want to be named, said she heard three shots and her husband heard six.
Another said: "I heard the bangs, the guns. I thought it was a car backfiring."
One resident said: "We heard what we thought was a vehicle backfiring in the road outside. There was one bang. It was immediately followed by another two or three bangs."
He said a motorcycle was left "in the dead centre" of the road.
"One of the two men on the motorbikes ran from the road wielding what was either a silver piece of pipe or a baseball bat," he added.
Another resident said the shots came from a man hiding behind a car and there were two men on bikes. They said one of them had a machete and threw it at the man behind the car.
Councillor Bob Derbyshire said he had heard gunshots were fired and some bikes and a van were in the area.
He added: "This is not the sort of place you might expect it to happen - it's a residential road with lots of ordinary people.
"I'm not too worried, it's so out of character for the area and... it's the last place you would think it would happen."
South Wales Police said the street was closed while officers carried out their investigations.