Carl Sargeant inquest: AM apology 'not over allegations'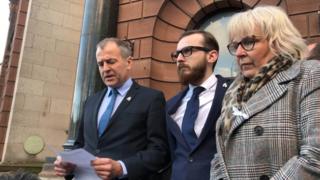 A former minister who was found dead after being sacked was not apologising over allegations about his behaviour towards women in his farewell note, his wife has told an inquest.
Carl Sargeant, 49, was found hanged at home in Connah's Quay, Flintshire, by his wife Bernadette on 7 November 2017.
She told the inquest in Ruthin he was apologising for taking his own life.
Mr Sargeant was sacked as communities and children minister over claims of inappropriate behaviour towards women.
The inquest has resumed after being adjourned in November following a legal challenge.
Mrs Sargeant told coroner John Gittins the farewell note in which her husband apologised for his actions was referring to his death.
When asked whether there was "another interpretation" and perhaps he was apologising for wrongdoing, she said it was not the case.
She said: "I said 'look Carl, have you done this?' And he said no. I still believe he hasn't done anything."
The court heard Mrs Sargeant woke up at about 10:30 on 7 November and found a note on the door to the utility room, where Mr Sargeant's body was found, saying not to go in but to call the police.
Her daughter Lucy tried to perform CPR on her father, but he could not be saved.
"I can't really describe how I felt... I don't think anybody expects to find somebody... I can't put into words." Mrs Sargeant said.
She told the hearing she had not seen anything like this coming, but: "I just know the impact of the last few days."
Her interpretation of his note was "Carl was a dad first and a husband. We were his main focus, his family. He never wanted the press to be involved with us as a family."
Under questioning from Cathryn McGahey QC, representing Carwyn Jones, Mrs Sargeant said the former first minister and her husband were colleagues but "not really friends" as with other politicians.
She said he had helped Mr Jones in his bid to become first minister but had felt that it was less easy than previously to speak to him and there were times when he felt he was being "blocked" by members of Mr Jones' team.
Ms McGahey asked: "You'd never heard about any incident in which he'd been silly towards other women?" Mrs Sargeant said she had not.
Ms McGahey continued: "A pat on the bottom?"
"No."
Professional help
Referring to the note left, Ms McGahey said: "The adverse publicity 'because of my acts' [which Mr Sargeant had written in the note] isn't talking about the family losing someone, is it?"
Mrs Sargeant replied that "to me it was," adding she thought he was referring to his death.
Ms McGahey made further references to extracts from the note including "I've let you all down badly" and "leaving you with my shit", adding: "That's leaving you with what [Mr Sargeant has] done, isn't it?"
Mrs Sargeant repeated she thought her husband was referring to his actions on 7 November.
She was also asked about an unspecified "life event" which had occurred a number of years ago and had affected Mr Sargeant's mental health.
Mrs Sargeant agreed that the family had needed to get help from professionals, but added: "Eventually. Not at the beginning."
Ms McGahey said this showed the family knew where to access help if they needed it.
Mrs Sargeant said it was not easy to find help, particularly for a well-known person, and her husband was not up to it after the sacking because he was "shell-shocked" and "wasn't able to function properly".
'I've been binned'
Earlier, Mrs Sargeant told the coroner her husband was called to Cardiff for the reshuffle on 3 November.
Afterwards, he rang her, saying he had been removed from government and suspended from the Labour Party.
Mr Sargeant said: "I've been binned" and his wife replied: "That's all right love."
He also mentioned there had been allegations, but strongly denied any wrong-doing, "both to the first minister and to me, and the children".
Mrs Sargeant said her husband had been "quiet" during the phone call. "Carl's not a quiet person. You could feel, this has come as a total shock to him."
"He had no information. He was desperate for information."
At the time of the allegations the #MeToo campaign about sexual harassment of women was prevalent, and Mr Sargeant felt "out of his depth", she said.
Mr Sargeant sought legal advice and his wife described him as being "shell-shocked" and there was "no clear definition" of what he was alleged to have done.
She said he had no support, adding: "I think he would have liked to have been offered it."
Mrs Sargeant said she and their children Jack and Lucy decided "it was the right thing to do" to travel down to his flat in Cardiff, and described Mr Sargeant as appearing "vastly different" from that morning.
He tried on "numerous occasions" to contact the Labour Party without success and she said not knowing what the allegations were "devastated him".
When the couple returned to Connah's Quay on 6 November, Mr Sargeant received a text saying the first minister's wording had changed from "allegations" to "incidents".
She said her husband went a "strange colour" and shook his head.
A BBC journalist called at the house that evening, which Mrs Sargeant said upset her husband.
He told her: "That's my job but this is our home."
The inquest also heard that in 2013, Mrs Sargeant received a letter making allegations about her husband's behaviour around women.
"I showed it to Carl... we talked about it. I didn't believe it... that was it really," she said.
The coroner asked whether former First Minister Carwyn Jones was aware of some of Mr Sargeant's "vulnerabilities" as he had mental health problems, to which she replied yes.
Mr Gittins said he had the impression an unspecified "life event" acted as a catalyst to make matters worse.
"There was also a lot of pressure from Carl's job. He was a minister at this point. It took a lot for Carl to actually go to the doctors," his wife said.
Eventually he started taking anti-depressants and there was an improvement, she said, but his health started to decline between 2012 and 2014, with the main deterioration in the week before he died.
The inquest was adjourned until Wednesday.
Information and advice
If you or someone you know is struggling with issues raised by this story, find support through BBC Action Line.