Holywell High Street to open to cars again permanently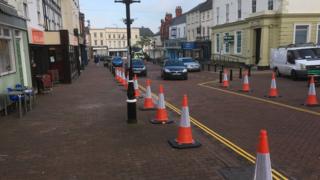 Work will start to make a town's high street fit for vehicles after a successful trial period.
Last year Holywell High Street in Flintshire removed a traffic-free zone which had been in place since 1992.
Work will start in early August and finish by December, the council said.
In January, traders welcomed plans to reopen the main shopping street to vehicles. They had previously warned businesses could fold if the street remained as it was.
About £800,000 is needed to change the road permanently for vehicles.
The council had submitted an unsuccessful bid to the Welsh Government town regeneration fund, and it will now be put to a ministerial decision. 
Flintshire County Council said it would "progress" the scheme immediately due to deterioration of the road surface.